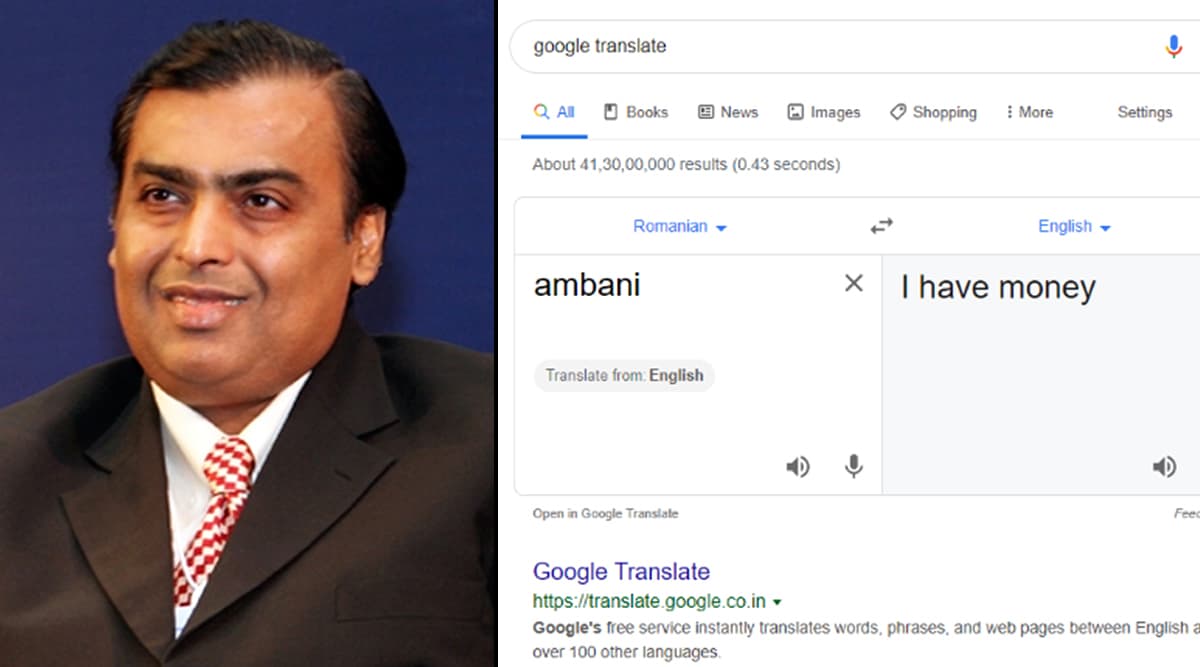 We all know that Ambani is synonymous to money. But now we have Google Translate to prove ourself. So when you translate from Romanian to English and type "Ambani" in the Romanian section, you get "I have money", as a result (We know, no need to rub it in our face, Google). The translation is going viral on the internet, and it is every bit of epic. We know he's rich BUT this intervention has us all go WOAH. Netizens cannot help but share the screengrab with the funniest reactions. Ambani is the richest man in Asia and also tops the Hurun Rich List undefeated for eight years.
If Google Translate were a person, we all would have wanted to tell that it is hardly news. But let's admit, it is amusing to find that if you're going to say "I have money" in Romanian, all you have to say is "Ambani". BTW, for no apparent reason though, I have a question. Does "am-no-bani" means I have no money? Because if it so, I will know how to express my financial condition in Romanian then, LOL. Well, for those broke people who want to know, "I have no money" when translated to Romanian reads, "nu am bani"
Check Translate Results:
The word "Ambani", when translated from Romania to english on #Google translate, means 'I have money' 🤔

Btw We all knows Mukesh Ambani - a richest Asian.#ambani #GoogleTranslate pic.twitter.com/KMNP2G7lqZ

— Sourabh Gupta (@SGupta_Real) October 5, 2019
Check Some Of The Reactions:
I am not kidding.#GoogleTranslate #Ambani pic.twitter.com/2a9Ffty7Pw

— Sourabh (@hitlersourabh) October 5, 2019
LOL
Even they know it #GoogleTranslate #ambani #richest

Just a couple of political names missing in translation. Opps! pic.twitter.com/I7IgDhaQo3

— Mohit (@Mohitpadhiar) October 6, 2019
ROFL
This is really funny ! #GoogleTranslate is it real or some easter egg ? #Ambani @google pic.twitter.com/nVAk2I5dH7

— Shailendra Mishra (@tweet2ssm) December 11, 2018
On a serious note, barely two days after the Reliance Industries' 42nd annual general meeting, Mukesh Ambani's net worth increased by close to Rs 29,000 crore, despite the economic slowdown in the country. Reports also state that since August 12, the new announcement gave the stock an 11 per cent lift. Also, Ambani's wealth increased by USD 4 billion (Rs 28,684 crore).