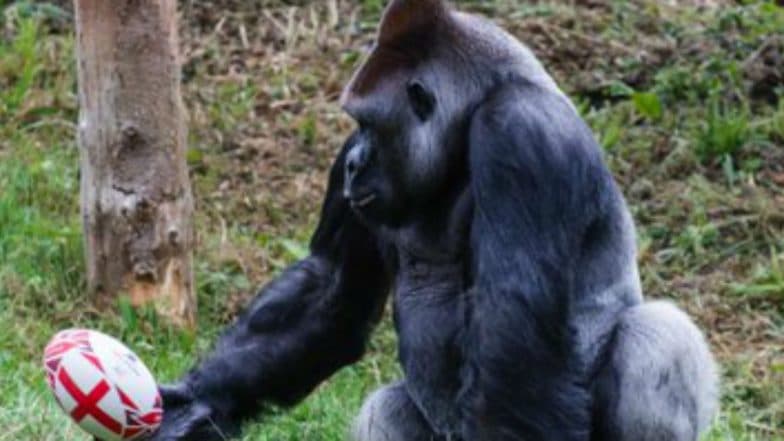 London, September 17: A western lowland gorilla called Pertinax was captured in a candid moment brushing up his skills with a rugby ball ahead of the Rugby World Cup 2019. The 37-year-old gorilla from Paignton Zoo was seen playing with a rugby ball and polishing his skills in his natural habitat. The Rugby World Cup begins on September 20 and the final will be played on November 2, 2019. The tournament will be hosted in Japan. Gorilla Selfie Goes Viral After Endangered Apes from Virunga National Park, Congo Pose With Anti-Poaching Rangers.
The 37-year-old Pertinax weighs 190 kgs and needs more care than his other brethren. The gorilla was spotted playing at the Paignton Zoo in Devon. The images were tweeted by Paignton Zoo's official Twitter handle. Gorilla 'Funerals' Prove that the Apes Grieve the Dead, But Simians Licking Corpses of Loved Ones Could Spread Ebola, Warns Experts (Watch Video).
See Pictures in the Tweet Below
Western lowland gorilla, Pertinax, has been testing out his rugby skills ahead of the #RugbyWorldCup! 🦍🏉

The rugby balls are a great form of environmental enrichment, being novel items that provoke curiosity and stimulate play. #RWC2019 https://t.co/BmsxPjk9Y6 pic.twitter.com/VurkjGCIzq

— Paignton Zoo (@PaigntonZoo) September 16, 2019
"Pertinax is the best and most handsome gorilla rugby player!" said an user. "This is an excellent form of environmental enrichment – the balls are novel items and stimulate the gorillas to play, " senior keeper Alex Perry was quoted as saying by the Press Association. The balls were donated by local online store Lovell Rugby.