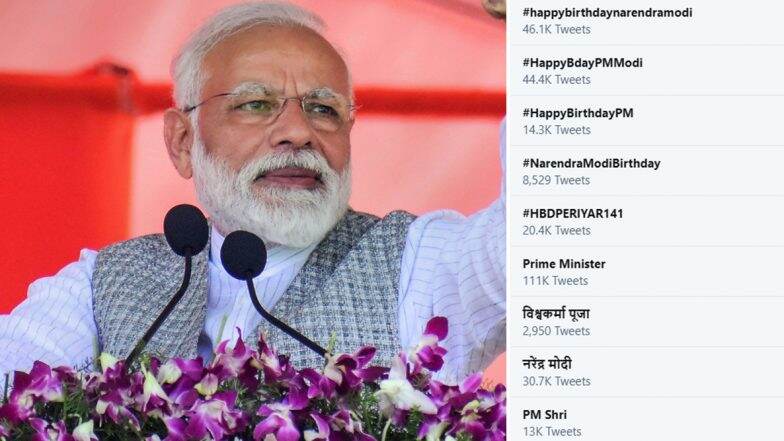 September 17 marks the birthday of Indian Prime Minister Narendra Modi. Born on September 17, 1950, today marks his 69th birthday. In his second term of serving the PM of the country, he has garnered a huge support from the citizens of India and from abroad. His popularity only seems to be growing everywhere. So it is no surprise that everyone is enthusiastically wishing him on his birthday. People's greetings for him through social media platform Twitter, has made it to not one but eight hashtags! A very common hashtag of #TuesdayThoughts is nowhere among the top ones. If you are active on Twitter, then you'd know that there are daily hashtags for each day where people tweet out positive quotes and messages. But on this day, PM Narendra Modi birthday wishes have managed to beat the regular trending hashtags of #TuesdayThoughts and #TuesdayMotivation.
The top trending hashtags on Twitter since this morning are #happybirthdaynarendramodi, #HappyBirthdayPM, #HappyBdayPMModi, #NarendraModiBirthday, #ShriNarendraModi. In fact, out of the top ten, there are eight hashtags just celebrating and wishing PM Modi. The kind of following he has is clearly evident through these social media trends. People are posting pictures and videos of him and extending warm greetings to wish him a very Happy Birthday. Narendra Modi 69th Birthday Special: 10 Memorable Quotes by the Prime Minister of India.
Check Some of the Wishes for PM Modi's Birthday:
May You Keep Shining
Birthday Wishes to PM of India #happybirthdaynarendramodi sir. May your leadership shines new India. pic.twitter.com/V4gjIqGsmx

— MANIKANT (@MANIKNGR2000) September 17, 2019
Most Powerful Leader
Wishing vary Happy Birthday to the World's Most Powerful, Disciplined and Enthusiastic Leader.. 💐🌹🌻 @narendramodi#happybirthdaynarendramodi #HappyBdayPMModi pic.twitter.com/ueT25IvNTO

— Bhagyashree😺😻 (@CapriciousSoul) September 17, 2019
And Influential Leader
"Hard work never bring fatique. It bring satisfaction."

Happy Birthday to one of the most influential leader of india.

May you bring these changes to india for many many more years....#NarendraModiBirthday#India pic.twitter.com/Yit3RdjvMo

— Harshit Jain (@iharshitjain) September 17, 2019
Inspiration
"From chaiwaala to PM.."

You are an inspiration for many sir!! #happybirthdaynarendramodi #HappyBirthdayPM pic.twitter.com/XaBqm3A05P

— Hruday MN (@bablu_03) September 17, 2019
People from the political fraternity also extended their wishes to the beloved PM. Knowing his popularity in the country, an online page has also been set up on narendramodi.in for people to send in their wishes and birthday greetings.