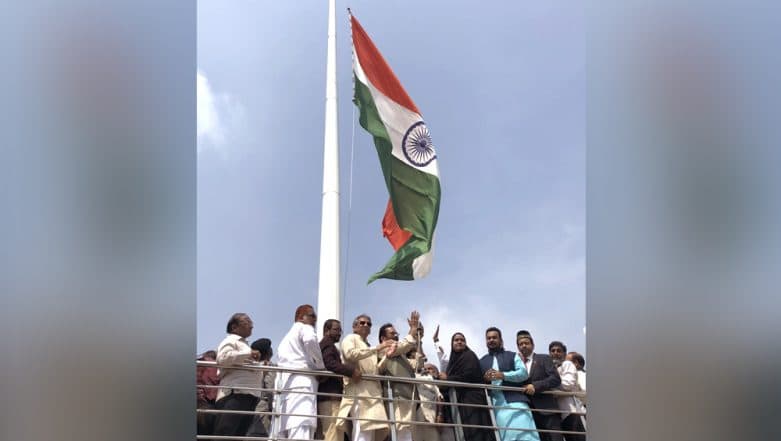 Mumbai, October 17: Union Minister of Minorities Affairs Mukhtar Abbas Naqvi on Wednesday unfurled India's highest tricolour on the rooftop of Haj House in Mumbai. The national flag, which was installed on the terrace of Haj house, is believed to be the highest flag to be installed on any building in India. The size of the flag is 20 feet by 30 feet which is erected at a height of 20 meters. Describing the day as 'historic', Naqvi said, "Today, we have unfurled the tallest national flag on any Indian building. Longest Indian Flag on Independence Day 2018: Assam's Youth to Rally with 3.5 Km Tricolour. 
This will also enhance the pride of Mumbai and its neighbouring regions." The Union Minister also announced the schedule of Haj 2019. Speaking to the media, he said, "This year, Haj has been announced a month earlier than the previous year. Also, Haj 2019 is going to be 100 per cent subsidy free." "Last year, more than one lakh 75 thousand Muslims had completed Haj. The online application process for Haj 2019 will begin from October 18 while the offline application process will start from October 22," Naqvi said.
Watch video unfurling the highest national flag. 
The Minister also informed that an app has been launched through which people can apply. The main aim of this is to digitalise the entire process. He further added that approximately 21 embarkation points will be functional and Haj pilgrims will also be able to go from the Calicut International Airport. "We are hopeful that Indian Muslims will go in large number for Haj 2019 in comparison to that of Haj 2018," he concluded.