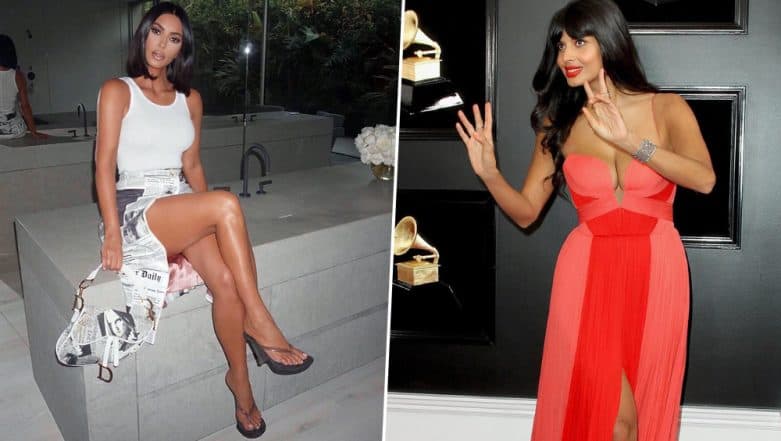 Jameela Jamil has always been very vocal about body positivity issues and has stood against unrealistic influencers. The Good Place actress has previously blasted the Kardashians on their social media for promoting an unhealthy lifestyle to achieve what they call, a "natural" body. Last time, it was Khloe Kardashian who got slammed for advertising a slimming tea brand to her Instagram followers. And, this time it's the elder sister, Kim. Jameela gives a "hard pass" to Kim's new body makeup. Kim Kardashian Introduces Body Makeup by Covering Up Psoriasis on Leg, Gets Trolled for Promoting Unrealistic Body Standards.
Three months ago Jameela Jamil posted a lengthy comment on Khloe Kardashian's Instagram post where Khloe was seen flaunting her abs and tried to tell her audience it was from some slim tummy tea she's been drinking. Jameela Jamil was not having it. Sis came through with facts and slammed Khloe for lying to her subscribers for money. Seriously, how rich do the Kardashians want to be? Jameela was supported and thanked by people on every social media platform for standing up against this.
Jameela Jamil's Comment on Khloe Kardashian's Tea Ad:
 

 

 

 

View this post on Instagram

 

 

 
Jameela has yet again come for the Kardashians' throats with her tweet on Kim's new body makeup line. People joined in after Jameela's viral tweet. Kim Kardashian launched another teaser of her brand and her body foundation. But this time people were pissed as the foundation was used to cover the model's thighs and inner thighs. People were angry at Kim for shaming stretch marks and cellulite by covering thighs. And who needs makeup on their inner thighs? Ashley Graham Gets Body Shamed on Instagram: 'You Are FAT! Get a Brain & Marry a White Man'.
Jameela Jamil's Tweet and Some Fan Reactions to Kim's New Teaser:
Hard pass. God damn the work to take it all off before bed so it doesn't destroy your sheets... I'd rather just make peace with my million stretch marks and eczema. Taking off my mascara is enough of a pain in the arse. Save money and time and give yourself a damn break. ❤️ https://t.co/gGrbiZfH2K

— Jameela Jamil 🌈 (@jameelajamil) June 24, 2019
that's ok I'll b using Fenty 💕

— 50 shades of reeeee (@beepbopAb) June 22, 2019
— KIANA (@crimsonredpaint) June 23, 2019
everyone using this as soon as they walk out in the summer heat pic.twitter.com/PqcJh49omZ

— Lilian Kureishy (@minohil) June 23, 2019
— Holly Hellcat (@HollieHellcat) June 24, 2019
Here's my leg: pale, hairy, bruised, varicose vein and bloody beautiful. pic.twitter.com/gZJmzwrb7q

— Heather Stanley (@hstanley_) June 24, 2019
Girls and women are not insecure enough about their normal bodies. Thank you for finding an innovative way to rectify that. pic.twitter.com/v1u2J59Oe3

— Rebecca Bitton (@rebeinstein) June 24, 2019
White clothes: pic.twitter.com/XxQn0xcy8F

— Bárbara García 🇮🇨 (@barbarags1994) June 23, 2019
Kim got some support earlier when fans defended her by saying body makeup has been done before and Kim hasn't done anything wrong. But this time her video rubbed people the wrong way and it looks like Kim isn't getting the support she needs before the launch. Nonetheless, we all know her line is going to be sold out in minutes.