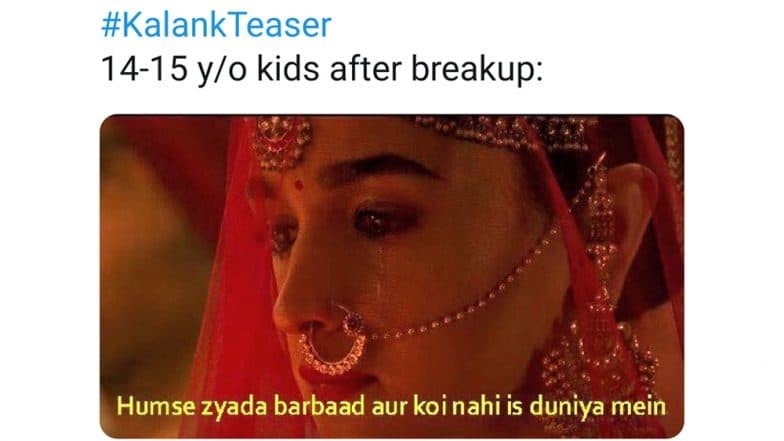 Karan Johar's period drama is all set to hit the screens next month and we thank him for giving us a glimpse about what it revolves around. Kalank has a stellar star cast of Madhuri Dixit, Sanjay Dutt, Alia Bhatt, Varun Dhawan, Sonakshi Sinha and Aditya Roy Kapur and it's essentially a story about eternal love. Set in the 1940s, the filmmaker has tried to make his movie a visual delight, a tag that's so far associated with Sanjay Leela Bhansali movies. From awe-inspiring sets to poetic dialogues and charming faces, the movie has everything you need to be spellbound. But hey, the teaser is not really an accomplishment unless you have enough memes made on it to tickle your funny bone, right? Kalank Teaser: Is This Kriti Sanon's Song Still With Varun Dhawan and Aditya Roy Kapur?
Social media currently is flooded with different memes on Alia and Varun's two powerful dialogues that keep us hooked to our mobile and laptop screens. The ones that boggle your minds and have a far deeper meaning. However, their intensity is compromised thanks to these funnier than funny tweets that are making us go ROFL. Check them out right below. Kalank Teaser: Did Alia Bhatt and Varun Dhawan-Starrer Copy the Theme Music of This Popular Superhero Show?
Shoutout to all the engineers
Nobody:

Literally nobody:

Engineer: #KalankTeaser pic.twitter.com/7mv1MQ4vo6

— Rk (@ImRaw_Rk) March 12, 2019
True that!
when you leave exam hall in 15 minutes pic.twitter.com/qXYjdg0AuO

— kapil singh mewad 🇮🇳 (@kapilmewad) March 12, 2019
LOL
Ambani to every celebrity#KalankTeaser #Kalank pic.twitter.com/iW5gggGU9A

— Saumya Pathak (@SaumyaPathak11) March 12, 2019
Desperate is the word
Interviewer: Why are you so desperate to get this Job?

Interviewee: #KalankTeaser pic.twitter.com/y6C5UR1zdD

— ChoroJodhpuriyo (@ChoroJodhpuriyo) March 12, 2019
This one's for scholars
When you sit for government exams and you want others to fuck up.#KalankTeaser pic.twitter.com/xT2g6dZ8fw

— Baazigar 007 (@baazigar_007) March 12, 2019
This one's for Congress
Congress Leaders and Supporters about Rahul Gandhi:#KalankTeaser pic.twitter.com/SynftjPeui

— Principle Patel (@PatelSiddhant_) March 12, 2019
That hurts
14-15 y/o kids after breakup: pic.twitter.com/cB9txp4yzK

— Rishika Mehra (@_Weird_potato__) March 12, 2019
PUBG, anyone?
Riding bike with friend in PUBG while chasing safe zone feels like👇 #KalankTeaser #PUBG_MOBILE pic.twitter.com/RUMZult1Ms

— Insta bhi yhi h👇🌚 (@__mani__9) March 12, 2019
Kalank is all set to hit the screens on April 17 and this short wait seems too long suddenly. While we are busy laughing till our stomach aches, courtesy these memes, you guys go ahead and set the countdown for the big release of this year. *Toodles*.