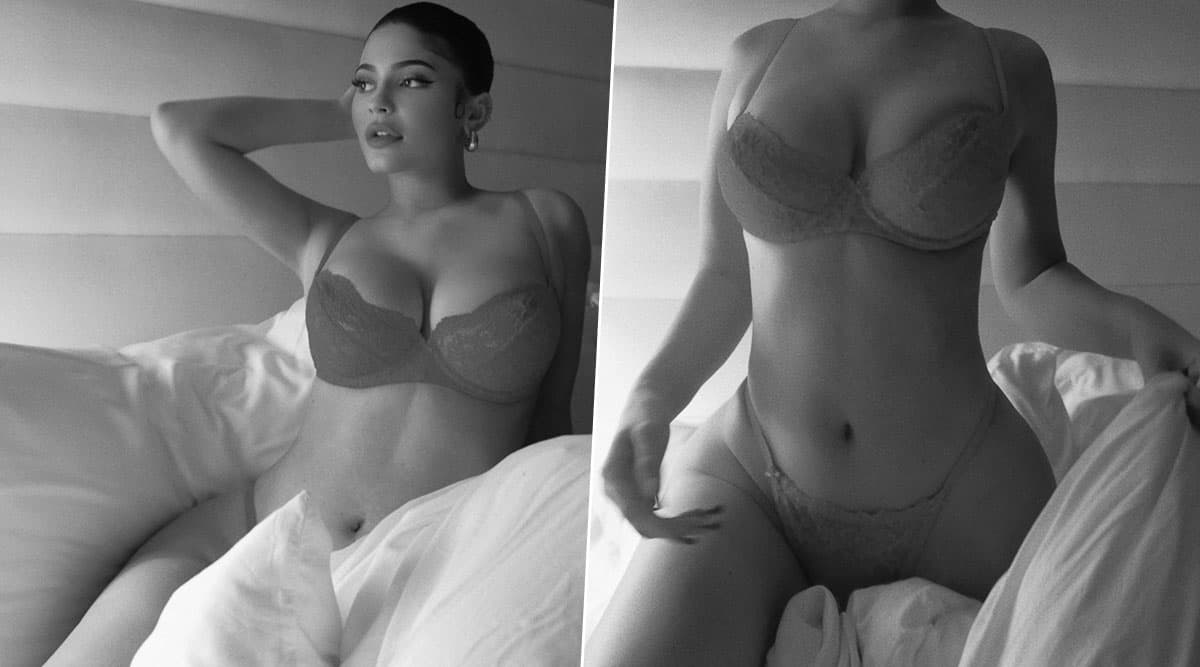 Happy new year, people! Netizens are all set to take social media on fire to welcome 2020 and, in fact, the temperature on twitter is already up because of all the "Thirst trap" posts people are sharing! And guess the name behind the hottest trend set to end the year on a sizzling note? Kylie Jenner! She gifted her Instagram followers a treat to the eyes and BOOM, there began the sexy trend! Although, there are some reports that Travis Scott isn't quite happy, given their rocky relationship, the pictures have legit broken the internet. Kylie Jenner's Playboy Bunny Costume Is Definitely the Sexiest Outfit to Style Up for This Halloween Party 2019, View Pics. 
Kylie posted a couple of shots of her in bed in a racy piece of lingerie with the caption, "just didn't feel right going into 2020 without one last thirst trap." And as expected social media is WON by the queen once again. Since the year is going to end, Twitterverse is sharing their Thirst-worthy pictures online too, to set the "hottest" trap for us. BUT, you know the drill on Twitter- anything an everything that trends on Twitter has to have a funny angle to it. There are legit people who can make even the thirstiest of trends FUNNY AF! This one is no different.  Still don't get it? Check these out to get the flow:
Kylie Jenner's Thirst Trap Pic:
And Here's How Twitterverse Is Reacting:
one last thirst trap

in 2020, we're keeping the crews satisfied pic.twitter.com/qHnlsaSiZM

— george peridot (@smallbootycoco) December 31, 2019
Yeah!
are we posting end of the year thirst traps? pic.twitter.com/HiMfEpQwtG

— MelaninMonai🌻 (@LittleMiss_BEE_) December 31, 2019
Woah
I don't know if this counts as thirst trap. pic.twitter.com/9lvi8FZ62L

— Shonty Badmash (@ShontyBadmash) December 31, 2019
OMG
" Last thirst trap 2019 " pic.twitter.com/Fzc8HlOCvh

— Alma (@hennycocaine14) December 31, 2019
Wow
In honor of @KylieJenner, here is my last thirst trap of 2019💦😪 pic.twitter.com/mPNEg3w9gm

— Emily Vanessa (@embalto) December 31, 2019
LOLOLOL
Fuck your thirst trap bullshit, here's the OG thirst trap pic.twitter.com/WugGuLBMV9

— Rahul Srinivas (@rahulkaaalam) December 31, 2019
Couldn't Agree More
Me when there's a thirst trap pic.twitter.com/Fzqdu5PLA8

— тᾰḙ (@taeemoore) December 31, 2019
Desi People Will Know
The Thirstiest Thirst Trap Ever pic.twitter.com/WrcIX29TgP

— BB (@_Bubblish) December 31, 2019
Can't Even...
First ever OG Thirst Trap pic.twitter.com/HSoZmkEjHn

— Aniket Deshpande (@aniket0608) December 31, 2019
ROFL
My thirst trap show me your 😬 pic.twitter.com/f9tx8ltVxq

— Vaibhav Sangwan (@Aashwadhaama) December 31, 2019
Here's Thirst Trap Pictures From Indians:
Am I doing it right? https://t.co/6wFdBXcEHP pic.twitter.com/CKFOBf4CLg

— Doja Cat Stan #IndiaAgainstCAA 👾 (@SuchAMisfit) December 31, 2019
*Heart Eyes*
Never heard of em https://t.co/R9QaL3fbl4 pic.twitter.com/B828Wanri7

— zee (@snackistani) December 31, 2019
For those who still don't have a clue, People are sharing their hottest pictures, like men are sharing shirt-less snaps of their abs, biceps or triceps whereas women are posting booty pictures, etc. on Twitter with #Thirsttrap or simply writing the words "Thirst Trap before the year ends". Trust me we ain't complaining. Moreover, the funny ones on Twitter are simply making is a hilarious roller coaster ride. I mean, imagine scrolling a list of drool-worthy pictures and randomly you have a LIT meme!