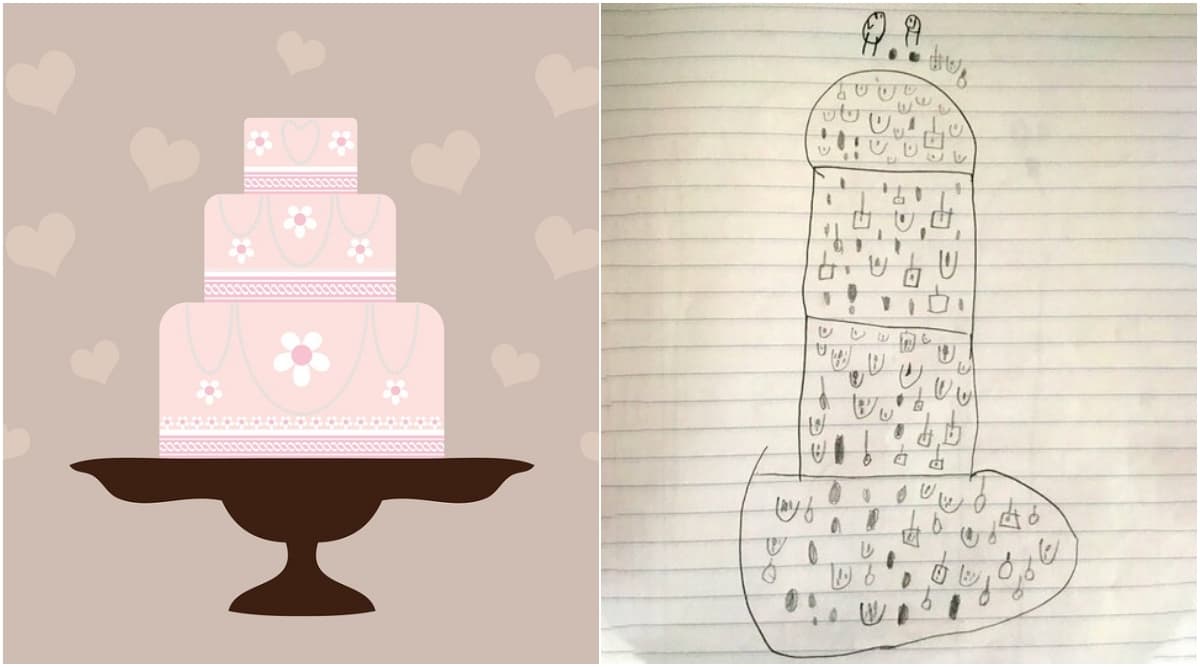 Kids are funny and their antics can get embarrassing at times. A seven-year-old child made a drawing of a wedding cake while he was attending one. With a colouring book in hand, he got creative but the end result was hilarious! The drawing looked like a penis more than a cake. The mother of the child was left in hilarity but tried hard to control her laughter. The little child even added the bride and groom on the top but the uncanny resemblance to a penis just cannot be missed. Penis-Shaped Taj Mahal Minarets Made by UK School Kid Make Twitter Pervs Giggle (View Viral Pic).
Jacob Francos, 7-year-old from Gillingham, England was attending a wedding and with not much for him to do around, he decided to make a drawing of the tiered cake. To make it look interesting, he also added a lot of fruits and design. There was no colour but he tried to make his artwork interesting. When Hannah, his mother saw the drawing she was amused. They were still at the wedding when Jacob showed them the drawing he had made. "I was trying not to laugh when Jacob showed me as I didn't want to hurt his feelings. As soon as I saw it one thing sprang to mind and when he added the 'fruit' I thought it was even funnier as it looks like something is wrong with it," she was quoted to The Metro UK. 
Check Picture of The Wedding Cake Drawing:
Seven-year-old's glorious drawing of wedding cake leaves mum in hysterics pic.twitter.com/7nbfXHxsEt

— Guest Post Expert (@szaheer123) October 18, 2019
The mother mentioned that she was laughing about this drawing for a week! Even adding that they would put up this drawing in his memory book. We can only imagine how the boy would react to his own drawing once he grows up.
Here's a Video of Other Hilarious Drawings Made by Kids in The Past:
So there have been many kids' drawings which are hilarious with their innocent imagination. The actual picture of the wedding cake which the kid drew wasn't shared but wonder how the couple who was getting married must've felt on seeing the drawing.