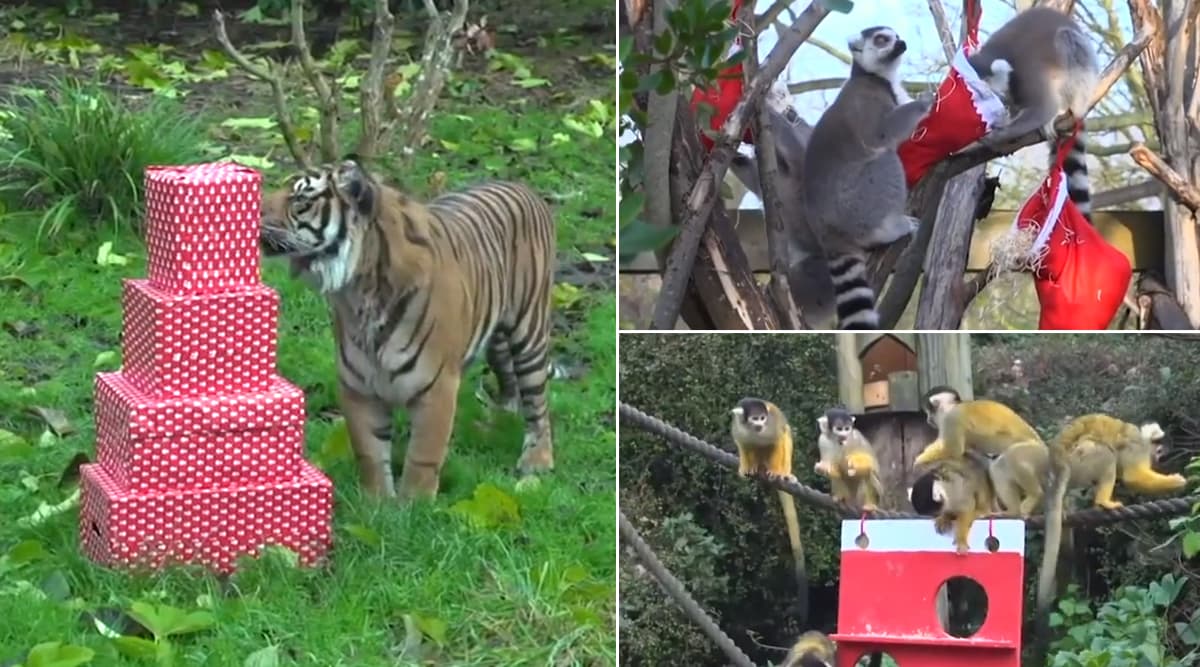 How sweet is it that animals get to celebrate Christmas just the way humans do! London zoo animals received their Christmas presents that were really happy to find edible festive gifts on a morning before Christmas. The Holidays have come sooner this year for the little animals. Videos and Pictures of these animals receving gifts, some even wrapped and kept inside stocking, are going viral and it is probably the cutest thing you will see today. Right from the Bolivian black-capped squirrel monkeys receiving a new Christmas climbing frame filled with some treats to Sumatran tiger Asim finding some brightly wrapped presents filled with turkey wings, each and every animal in the zoo received a little something, as per reports by The Metro.
Pictures of the animals such as the ring-tailed lemurs finding stockings filled with a selection of veggies, etc. are super heart-warming and beautiful.  SL London Zoo's Animal Operations Manager, Angela Ryan, said: "It's the season of giving and our keepers always look forward to sharing the magic of Christmas with the animals at ZSL London Zoo. Just like children all over the country when they wake up on Christmas morning, Asim loved tearing into his brightly wrapped presents to get at the meaty snacks inside, while our squirrel monkeys and lemurs enjoyed finding the festive treats hidden in their stockings," to the Metro.
Watch Video:
"With plenty of very merry fun for all ages, ZSL London Zoo is the perfect place for families to enjoy a Christmas day out – visitors can make presents for the animals with Santa's elves, enjoy themed rides, watch free festive films and much more!" he further said. It is really beautiful to see animals enjoying Christmas just like all of us. What say? Should all zoos adopt this?