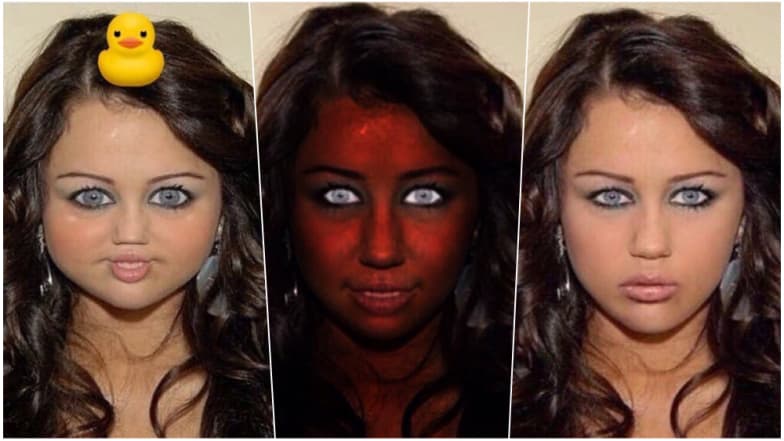 Miley Cyrus spent a good part of her life as Hannah Montana and gathered a huge fan following. Living her double life of singer and actor she had a huge fan base among the teenagers. While the singer today is far away from her Hannah Montana image, an old picture of her has come just in time for Halloween 2018. As Halloween is associated with spook and scare, this old picture of Cyrus's staring blue eyes is creepy. And adding more creeps and fun to it are Twitterati with their creativity. An old picture of Miley Cyrus has been targetted with memes and jokes on social media. Here's Why Miley Cyrus Deleted All Her Instagram Posts.
In this picture, she has brunette locks and blue eyes and no smile on her face. Miley is just staring into something and it is creepy doll-face! It is apparent from the time she was just 15, more into her Hannah Montana days. The pop star's blue eyes have been photoshopped by some Twitter users and given rise to all the more memes. Noah Cyrus, Younger Sister of Miley Cyrus is Selling a Bottle of Her Tears for 12000 Dollars. 
Check Memes on Miley Cyrus's Old Picture
Using Her Song Lyrics
I SAID are we gonna party in the USA pic.twitter.com/KoUMt8Xx8p

— Ghetto Fran Dresher (@wildestthot) October 23, 2018
That stare tho
Bank Robber: goofiest bitch in the room getting shot first

Me: pic.twitter.com/kFZUpjTnNZ

— spooky gay tweets (@trashygaytweets) October 23, 2018
Dissecting Miley's face into creepy looks!
— 🏝 (@eIvisbot) October 24, 2018
Halloween Inspiration from Cyrus
— 🏝 (@eIvisbot) October 24, 2018
Creepy to Spooky
— زینب (@purpIedream) October 22, 2018
People are scared too!
When I see that Miley Cyrus eyes meme flash up on my tl pic.twitter.com/tWxtk5zVDn

— Josh (@JoshuaNaugh) October 24, 2018
Miley Cyrus transformed!
I'm.... pic.twitter.com/u06MLcBNdo

— alfcapulco 666 (@alfredoo666) October 24, 2018
It is indeed scary to look at and people seem to have gripped on the mood for Halloween to add more creepiness to her old picture. Meanwhile, Miley Cyrus is not really active on social media or she would have had some good embarrassments looking at her own blast from the past pictures.