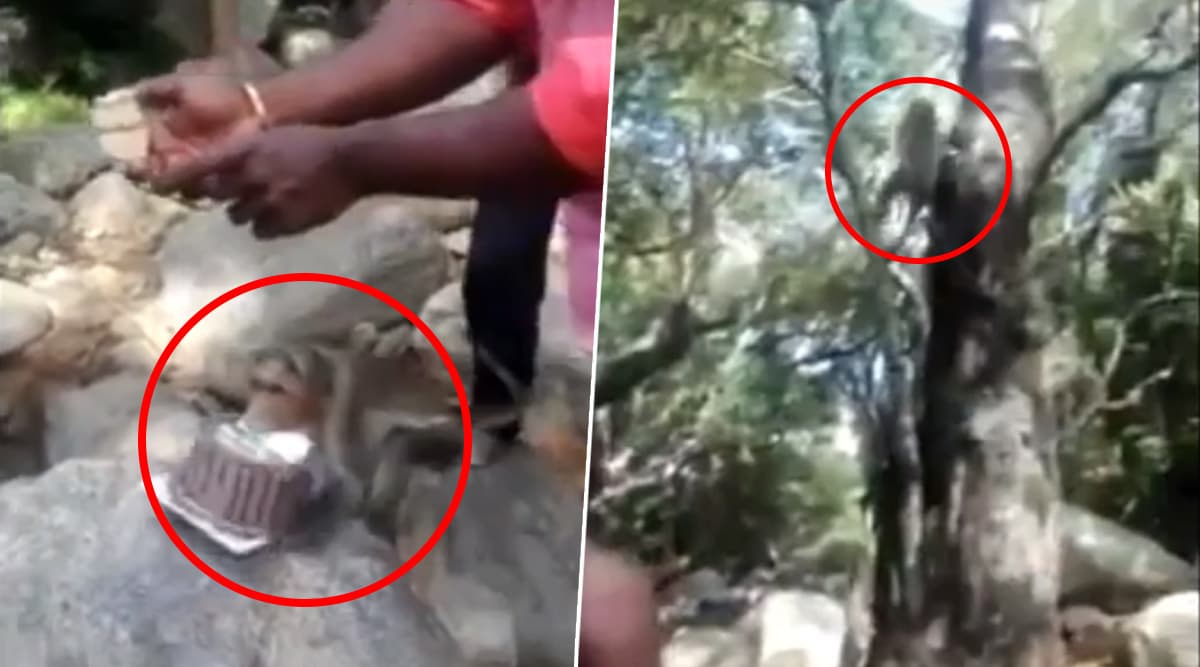 Monkeys are among the smartest bunch of animals and there have been several videos of them imitating human actions. Many people have also experienced the menace they cause when they snatch and steal things, especially from the tourists. A man who decided to celebrate his birthday into the woods, realised why it was a bad idea when a monkey ran away with the whole birthday cake! A video has been shared online which shows a group of people celebrating a man's birthday in what looks like a jungle. No sooner as the cake is cut, a small monkey comes and runs away with the entire cake on the tree. He is joined along with other monkeys and looks like someone else had the party. Monkey Steals Rs 5000 From Kanpur Toll Plaza, Funny CCTV Footage Goes Viral.
It is not clear from where the video has been taken but clearly it would be a fond memory for the birthday boy at least. In the video, as people sing the birthday song, the man cuts the cake. As soon as he picks up the piece to share with his friends, a monkey sneaks in and picks up the entire cake and runs on the tree right next to them. It all happens so quickly that it is not even possible to catch hold or even save the cake. The entire incident has been captured on video and it is now going viral. Karma Strikes! Man Makes Fun of Monkey's Penis, The Chimp Pees on Him Through The Car Window (Watch Hilarious Video).
Watch Video of Monkey Stealing Birthday Cake:
Clearly, the monkey and its clan had a celebration of the birthday. This incident reminds us of the time when a video from a Chinese zoo went viral, which showed a monkey stealing a tourist's wallet and throwing out all the cash. The incident happened at a popular tourist spot, Mount Emei in Sichuan province.