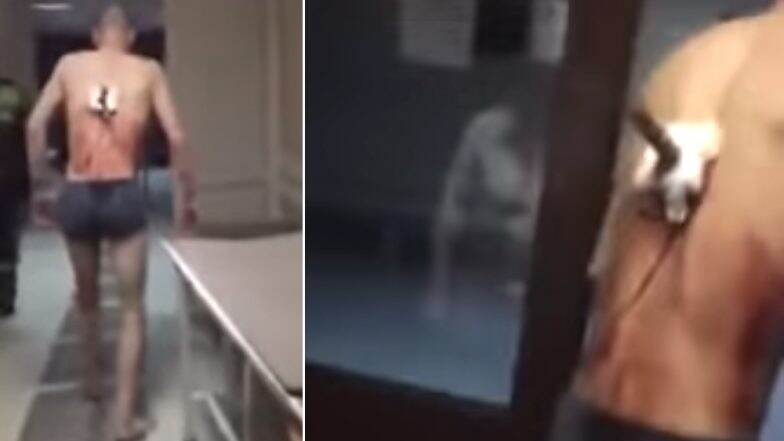 A seriously injured and bleeding to death Russian man chose cigarettes as his immediate priority rather than getting treatment. 43-year-old Vladimir was a part of a bad 'drunken fight' which left him with a knife stuck in his back. When he was brought to the hospital for treatment for dressing and cure, the man walked out because he wanted to smoke. The man was nearly naked, wearing only underwear and a knife stuck in his back! In the middle of his ongoing treatment, Vladimir had a better cure to his severe pain, a smoke! The hospital staff tried to reason with him but he walked out and came back when he couldn't immediately get one. New York-Based Woman Shares Scary Videos of Her Alleged Stalker Who Followed Her Home; Warns Netizens in a Series of Tweets.
A nurse managed to film the entire incident and it clearly shows the man walking with a knife in his back. Vladimir was caught in a drunken brawl and it left him attacked. The exact details on what happened are not yet known. On reaching the hospital, the doctor and nurses were undressing him to tend his wound when he told them he had 'something to do' and started walking away. The doctor even warned him, "Young man, you are going to die now." He was all set to risk his life because he wanted to smoke until he realised he wasn't going to get a cigarette readily. Indonesian Toddler Smokes 40 Cigarettes A Day! Gets Addicted After Smoking Discarded Butts On The Street (Watch Video).
Watch Video of Injured Man With Knife in His Back Walking Out For a Smoke
The nurses tried to stop him and he was even faltering in between. When they asked him where he was going he turned around and said, "for a smoke." The temperatures outside were too cold. The nurses even brought that to his notice but the man was hoping that he would get a cigarette from another smoker outside the hospital. But it was all in vain and he eventually returned. It is reported that Vladimir is recovering after the doctors managed to get the knife out of his back.