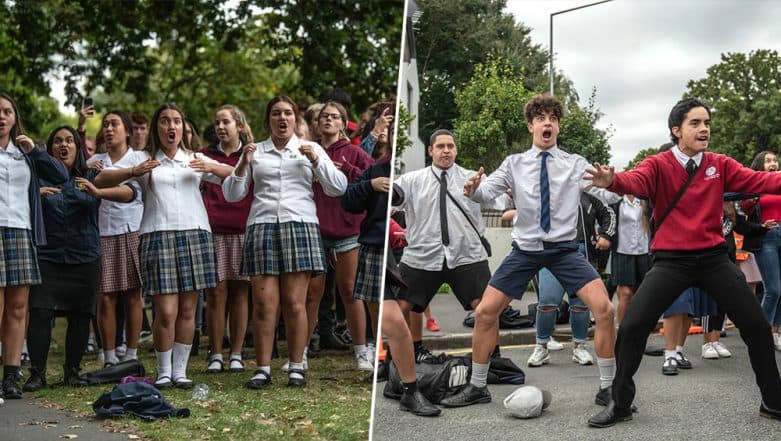 New Zealand city Christchurch saw a horrific mass shooting at two mosques on March 15, 2019. The attacks claimed over 50 lives and left many injured. To honour the memory of these victims, students from different religious background came together to perform the haka dance. Children from various schools participated in paying a tribute to the victims of the terrorist shootings. The haka dance, a traditional Maori dance is a symbol of strength and sense of community. Many groups came together and performed this dance to show solidarity. A group of biker gang also gave a tribute by performing this dance. So there were tributes coming from all over New Zealand in the form of this traditional dance. New Zealand PM Jacinda Ardern Vows Mosque Gunman Will Face 'Full Force of Law'.
In several parts of New Zealand, people paid their tribute in a different manner. The haka dance is a tradition of the indigenous Maori people. They performed the dance outside the Al Noor mosque, which was one of the targets of the terrorists. Headboy of the school, Fergus Kilpatrick told ABC, "It's something that's really special. It's a part of our culture and it's what we've done growing up, and to share that with someone through their grieving period. It's an honor. It really is." After performing the dance, they laid flowers and held a moment of silence in their memory. Security Beefed Up in Australia Following New Zealand Attack.
Watch Video of Christchurch Students Performing Haka Dance in Memory of The Victims
Some of the students got teary-eyed while they performed. They hugged each other expressing the sadness about the sickening incident. A group of students from boys school also made a similar show to pay tribute to the victims.
Check Video of Boys School Students Performing the Haka Dance
Watch Video of Biker Gang Paying Similar Tribute With Haka Dance
Even students from rival schools all came together to show their unity in times of crisis like these. Sarah Lidell, a student was quoted to Daily Sabah, "I feel like it's just really important to show everyone that one act of violence doesn't define a whole city. This is one of the best ways to show everyone coming together. Some schools have little funny rivalries, but in times like this we all just come together and that's all forgotten." It was one of the ways of putting a unified stand in the wake of racial hatred.