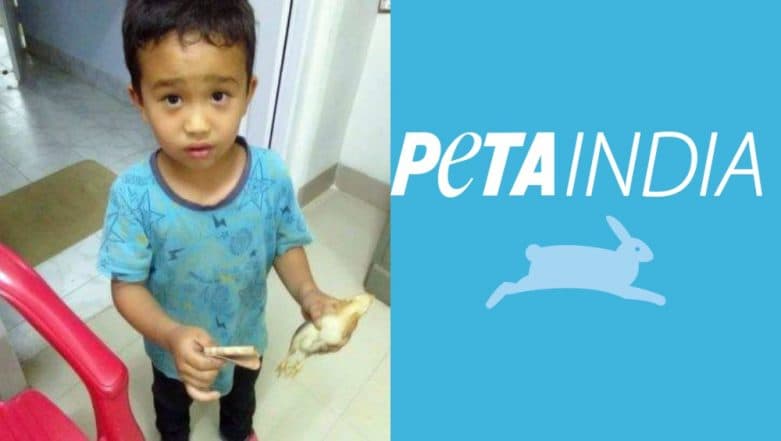 Derek C Lachhanhima, six-year-Mizoram kid who went viral on social media for rushing a chick to the hospital is soon to be awarded by People for the Ethical Treatment of Animals (PETA). He will be bestowed with the 'Compassionate Kid Award' for his gesture to save an injured chicken. Derek had mistakenly run over his neighbour's chick injuring it. Concerned for the animal, he took all the money he had and rushed it to a vet. Photo of a worried Derek with Rs 10 in one hand and chick in another was massively shared on social media with people complimenting the child's innocent gesture. Mizoram Boy Mistakenly Ran Cycle Over Chicken and Took It to Hospital With All the Money He Had; His Viral Pic Will Melt Your Heart.
A Facebook user Sanga Says posted Derek's photo on social media after which it went viral. It's caption reads, "This young boy from Sairang, Mizoram, accidentally ran over his neighbour's chicken. He took the chicken, ran to a nearby hospital and with all the money he had, asked for help. (I'm laughing and crying all at the same time)" The Facebook post has over 1.39 lakh likes and more than 12,000 comments.
Here is Derek's photo which went viral:
After the incident made headlines, the child became an internet sensation. He was also honoured by his school in St Pio, Sairang in Aizawl district. A picture of him being honoured with an 'Appreciation' certificate, flowers and a traditional shawl was also widely shared on social media. It also inspired an artist from Kerala, Sunil Pookode who painted a portrait of Derek standing on the globe with the injured chick and money in his hands. We hope Derek inspires people to be kind towards and compassionate to one another.