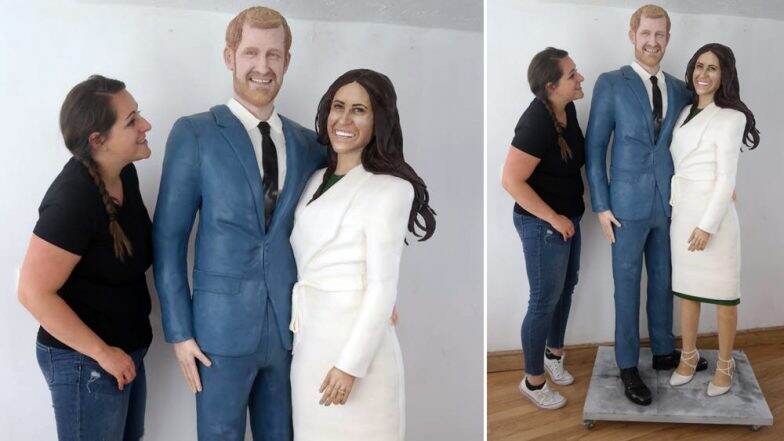 Royal couple Prince Harry and Meghan Markle grab eyeballs wherever they go. The duo's recently concluded 16-day-trip let the couple meet their fans in different countries. They were greeted by scores of fans everywhere they arrived. And now one of their fans have made a cake in the shape of the royal couple themselves. Lara Mason, a baker from the United Kingdom made the 127kg with statutes of Harry and Meghan on them for  Cake International 2018.
Lara spent more than 250 hours on crafting the two-meter cake. It is currently on display in Birmingham in the UK as a part of Cake International, The Sugarcraft cake decorating and baking show. The cake was made from 300 eggs and 50 kg of fondant icing. And if you are wondering what constitutes of Meghan's hair, it is the chocolate ganache. Meghan Markle's Lookalike Meets Prince Harry And His Reaction Will Make You Smile Big!
Mason told The Mirror that she was inspired by a pre-wedding photo of the couple to bake a cake for them. Lara shared pictures of the cake on Facebook with the caption, "It's Cake International 2018 and I have been given the honour of being asked to exhibit a piece... which in my eyes is every cake makers dream come true, so thank you!" Prince Harry's Thank You Note At New Zealand: 'From Myself, My Wife And Our Little Bump'
Watch the video below:
After three months they recently added a little baby bump to it:
A Facebook user commented saying, "Wish I could see it in person! Fantastic work!" Whole another one said, "Wow, this is unbelievably awesome ." Back in May, Mason had created a similar cake of Harry and Meghan in honour of their wedding. Lara also said, "It was my biggest challenge to date. The faces were the hardest part and halfway through I worried I didn't have any likeness at all."