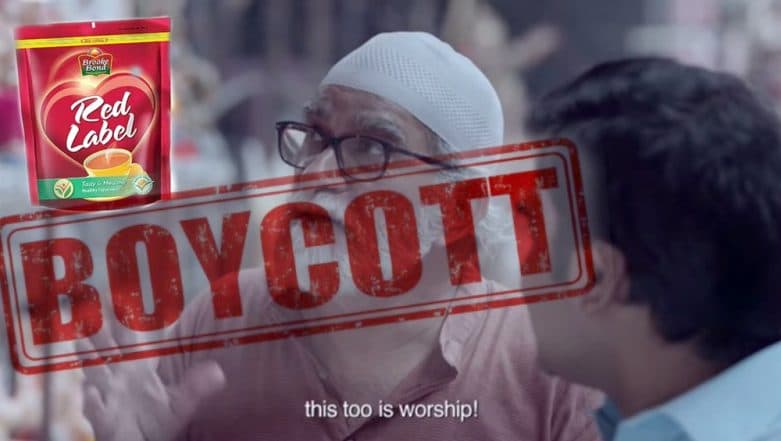 The festive vibe of Ganeshotsav is already in the air. Not only among the people but around every big festival, we see big brands making advertisements with the festive theme promoting their product. Hindustan Unilever Group also made a beautiful ad for Red Label tea portraying communal harmony, just in time for Ganeshotsav. However, people on social media haven't favoured the concept and angry reactions are all over Twitter. #BoycottRedLabel has thus started trending on the microblogging platform. Brooke Bond Red Label New Ad Says 'Elderly Get Abandoned At Kumbh Mela'; HUL Modifies Tweet After Twitteratti Call For Boycotting Hindustan Unilever; Watch Video.
In their latest Red Label advertisement, they show a Muslim old man making Ganpati idols and a Hindu customer who is buying an idol for the first time. The customer is shown flinching a bit seeing the man putting his skull cap. They have tea and converse over the profession. The Muslim man says even making Ganesh idols is his worship. The ad ends with the customer buying an idol from him. The idea of communal harmony is beautifully portrayed with ad, said to be inspired by a true story. The end card flashes, #ShreeGaneshApnepanKa with Red Label's tagline "Swad Apnepan Ka." Netizens however are not convinced with the idea of showing a Hindu's attitude towards the Muslims and then their product teaching them harmony. So angry reactions flooded Twitter with #BoycottRedLabel.
Here are the Tweets Demanding Boycott of Red Label: 
Mr Red Lable No need to teach black Secularism to Hindus.

Hindu means itself Secular.

If you have dare to teach peace to *(terrorism)* Peace community....? pic.twitter.com/Ey84oQ2cwe

— SayannaNagan (@Sayanna56306617) September 1, 2019
Don't demean a community
There are supposed to be responsible ways to showcase diversity; it must not be by demeaning one community. An average Hindu in India would have responded positively, as I mentioned in the above tweet, instead of how it has been shown in the ad. Foolishness! #BoycottRedLabel

— Gaurav Pandhi गौरव पांधी (@GauravPandhi) September 1, 2019
Hurting sentiments
Why can't these add agencies create concepts other than such kind of sensitive issues which may hurt sentiments of people???#RedLabelChai pls stop dis kind of promotional acts.#BoycottRedLabel pic.twitter.com/nNpzYdthb0

— 🌼Nilam Dupade🌼 (@NilamDupade) September 1, 2019
There are many more tweets expressing how the brand demeans one community while trying to give a lesson of secularism. Not many people have liked the concept altogether.
Here is the Red Label Ad For Ganeshotsav:
This is also not the first time, communal harmony subjected ads have received negative reactions. At the time of Holi, HUL's other product Surf Excel made an ad around two kids from different faiths, playing Holi together. They had a campaign called #RangLaayeSang, but it backfired. Soon, #BoycottSurfExcel started trending on social media, leaving people with mixed reactions.
In fact, festivals are rather a good time to speak of communal harmony, as a lot of people from different communities come together and celebrate. Such ads leave a positive impact on the audience but it can also hurt the sentiments of some. While many are calling out to #BoycottRedLabel, some Twitter users believe there is nothing wrong with the ad.