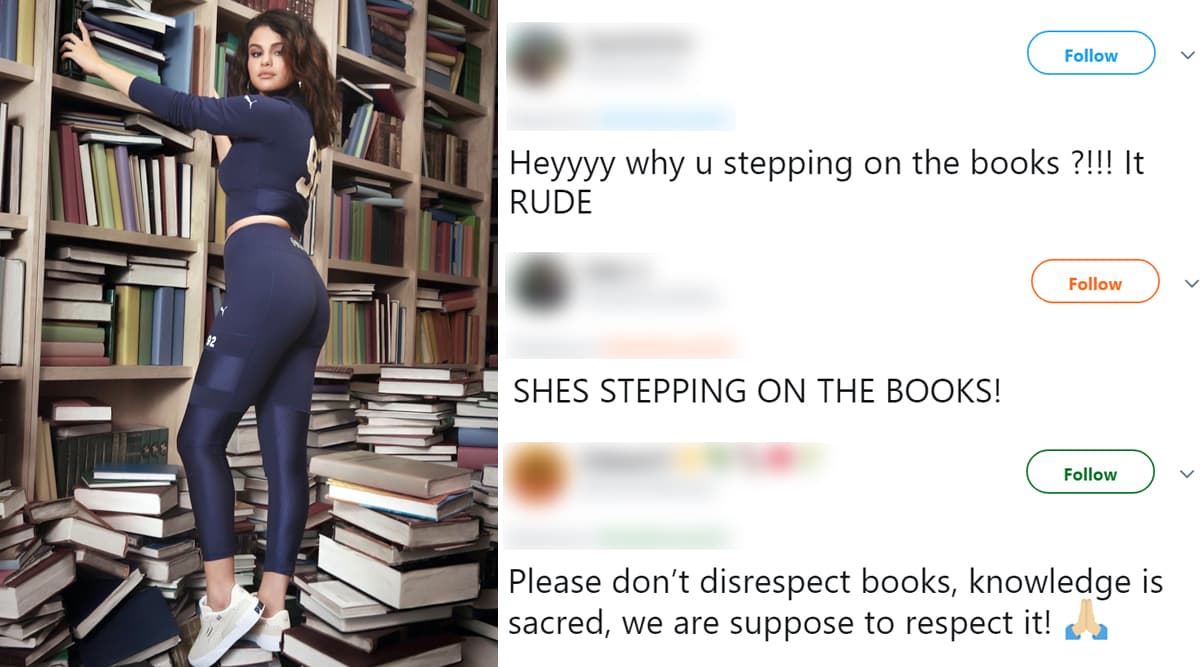 The internet is a wild place, giving haters and trolls a place to run wild, hurling insults to others with no regard for their feelings. And Selena Gomez is no stranger! The American singer grew up in the public eye and had every aspect of her life scrutinized. Be it her relationships to every tiny fluctuation in her weight; the 27-year-old frequently becomes the victim of trolls. Her latest collab with Puma had everything stunning. Flaunting her svelte physique, the singer unveiled her third collection with the sportswear brand. But netizens are far away impressed! Why? Because the 27-year-old was standing on a pile of books and posed for Puma's SG x PUMA AW19 Fall/ Winter 2019 collection. Apparently, it upset the fans of the singer who trolled her on social media for 'disrespecting' books. Selena Gomez Finally Responds to Fans Trolling Hailey Baldwin For Her Cryptic 'I'll Kill You' Post. 
According to the brand's press release, the new collection features "rugby-inspired apparel, footwear and accessories for an effortlessly chic look." These designs feel pretty perfect coming from a true girl-on-the-go. Selena can be seen donning the skintight crop top that features a three-quarter zip and a collar, as she styled it with high-waisted navy blue leggings with stripes down her legs. She looks everything, comfort! Throughout the shoot, Selena rocked in three different gorgeous hairstyles, and her brown smokey eye and nude matte lip completed her glam in the shoot. The singer's entire look undoubtedly inspired all the college-goers out there to opt for an effortless appearance for this winter. Yo or Hell No! Selena Gomez in All White Athleisure for Puma. 
View Pics of Selena in Her Latest Puma Campaign:
Selena Gomez for PUMA pic.twitter.com/10OgfznxrN

— Baddies. (@baddiesexplicit) November 26, 2019
Even after giving such great chilled vibes, the "Hands to Myself" singer once again became the victim of trolls. The pictures bothered the commentators because it showed the singer's 'disrespect' to the books as she stood on a pile of them for the shoot.
Fans Are Upset!
Heyyyy why u stepping on the books ?!!! It RUDE

— 𝖲𝖾𝗉𝗎𝗅𝗎𝗁𝖲𝖾𝗇 (@sepuluhsen_) November 28, 2019
In Caps!
SHES STEPPING ON THE BOOKS!

— Lina :) (@teatimewithlina) November 28, 2019
'Disrespecting' Books:
Please don't disrespect books, knowledge is sacred, we are suppose to respect it! 🙏🏼

— Citizen!!!🐈🦜🐾🍁🌾 (@AmaturRahman) November 29, 2019
There You Go!
I think the Asian in all of us can figuratively hear our mum screaming at us for stepping on books. #alllove #justiceforthebooks

— Annikyns (@Lannfernandez) November 28, 2019
Haters are going to hate, and trollers are going to troll. There is nothing much one can do about it. Apart from the singer standing on the books, everything matched the theme appropriately. Selena's SG x PUMA AW19 collection features apparel, footwear and accessories and will reportedly retail for 30 USD to 120 USD. The effortlessly chic apparels will be made on December 1, globally at PUMA stores and selected retailers worldwide.