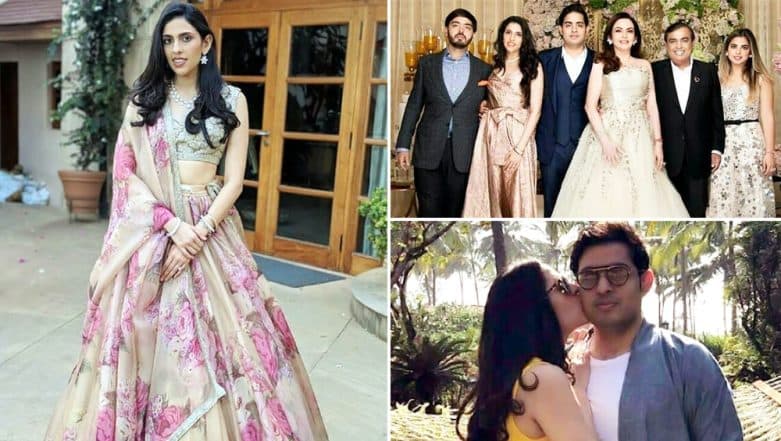 Shloka Mehta or as the world now like to identify her, Mrs Shloka Akash Ambani celebrated her birthday on July 11, 2019. The Ambani family did their very best to make her 29th birthday, a memorable one. Apart from the royal celebrations and gatherings, Shloka's in-laws ensured that their ideal bahu's birthday affair is no less than a fairy tale. And that is what Shloka got! India's richest family, arranged for a birthday gift in the form of an adorable princess video, where each member wished Shloka. Aside from some adorable responses, Shloka Mehta birthday video, which soon made to Twitter prompted some funny reactions as well.
Shloka Mehta got married to the love of her life, Akash Ambani in March this year. The extravagant nuptial ceremony, which was nowhere lesser than a festival, triggered international headlines. After her marriage, it was her first birthday to be celebrated as Mrs Shloka Akash Ambani and the family made sure that it has every bit of delight and fairy tale glimpse. The video featured Shloka's journey to find his prince charming, along with all the members of the Ambani family, sharing their warm wishes and blessings. Shloka Mehta and Isha Ambani's Transformation From Being Childhood BFFs to Sisters-in-Law Is Beautiful! See Picture. 
Watch the Viral Video Here: 
However, the video did initiate some funnier reactions on Twitter and you cannot miss the tweets.
Who Made This Video?
Ok let's put aside the message for a second

WHO MADE THIS GOD AWFUL VIDEO 😂😂😂

These people are so rich and this is the best they could pay for? Hahahaha a hahaha https://t.co/A20ccgEBYG

— Mazhbeen Siganporia (@mazhbeensig) July 14, 2019
Akash Ambani's Wink got the Twitterati Talking
sometimes i do things as unnecassarily extra as akash ambani's wink in the shloka mehta birthday video

— captain banana chips (@404notfkngfound) July 14, 2019
Slow Clap!
My eyes!My eyes! They outdo themselves in obnoxiousness each time! Slow clap #YehRishteyHainPyaarKe #SongHyeKyo https://t.co/qe1v5AoJ07 via @indiatoday

— Tanvi Bahuguna (@TanviBahuguna) July 13, 2019
LOL
I would like to have been the meeting room when the singer was briefed on this project. https://t.co/rvZEjZmtGV

— Rheea Rodrigues Mukherjee (@MukherjeeRheea) July 14, 2019
The My Favourite Things song from Sound of Music is played in the background throughout the video, to narrate the happy story. In between, both Ambani and Mehta family members chip in to wish Shloka. The video even hinted that Shloka is expecting soon, as the Ambanis continued to mention their hope for a "good news," in case the birthday girl did not get the point already.
Nita Ambani, on the other hand, has informed the world, how their home has now become a food destination, with Shloka introducing variants of teas and cupcakes that the family have never heard before. Her love for cricket, movies and books were also mentioned. Aside, from all the funnier reactions, we hope that Shloka continues to enjoy her married life and the family will maintain the same love and affection, in the years to come.