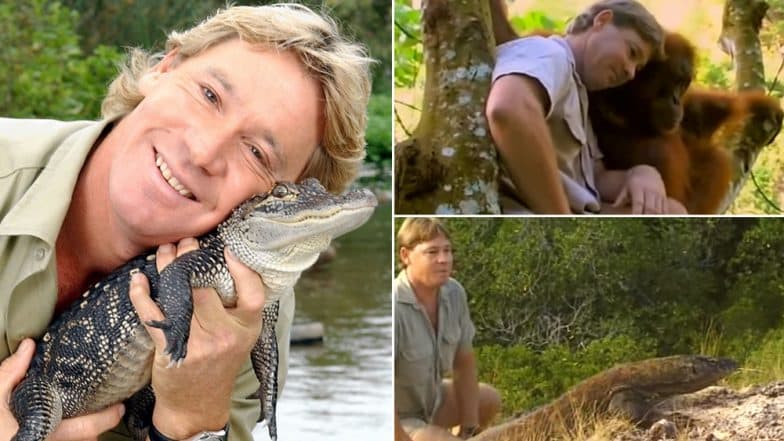 Steve Irwin, say the name and most people will have an image of him holding or fighting crocodiles. Nicknamed the 'Crocodile Hunter' over his popular TV series by the same name, the man was a deep animal and wildlife enthusiast. Born on February 22, 1962, his childhood was spent amidst the wild. His parents owned Queensland Reptile and Fauna Park and for Steve, it was his home. He grew up to become a wildlife expert, undertaking conservation projects and eventually became a TV show host. While he did several other programmes as well, his image in and as Crocodile Hunter stayed. A show that aired in more than 200 countries,  it made Steve Irwin a global personality. You will come across a lot of his videos, talk shows and his TV show episodes online. And some of them show how his love for wild animals involved taking huge risks, which eventually even caused his death. Steve Irwin's 57th Birthday: Google Doodle Honours Australian Conservationist With Illustrations Tracing His Love for Crocodiles.
Steve Irwin's fascination for crocodiles was documented on his honeymoon, where he spent most of his time shooting them. Released as a series it was watched by over 500 million people who were fascinated by the risks Irwin took. His line of work was pretty dangerous and it would give goosebumps to ones who were watching it on their TV screens. He passed away too soon in the year 2006 when he was killed by a stingray off the coast in Queensland. And if you have been missing watching his action, let us reminisce through some old captivating videos of Steve Irwin on his 57th birth anniversary. 20-Year-Old Survives a Shark, Bear & Rattlesnake Bite, in Just Less Than Three Years: View Pics.
Steve Irwin's Greatest Videos
Steve Irwin Playing With Crocodiles:
Steve Irwin had mastered a way of dealing with the huge predators on his own. While watching him tackle the huge reptiles, it gave goosebumps how he did it, but his courage won him the hearts of people around the world. 'Crocodile Hunter' a name that stayed with him and will continue to be remembered.
Steve Irwin Gets Bitten By Snake on TV Show:
While he was known for his encounters with crocodiles, Steve Irwin had deadly encounters with snakes, venomous as well as non-venomous. In this particular one, he was bitten by the snake, leaving the host and the crew shocked.
Steve Irwin Capturing a Cheetah:
As a part of a worldwide breeding programme, Irwin visited Africa to capture a Cheetah from the wild, to get him back to his zoo in Australia. He faced the big wild cats face-to-face and helped to trap them for further conservation.
Steve Irwin's Encounter With Komodo Dragon:
The Komodo Dragon is the world's largest lizard. Found only in Indonesia, they are extremely endangered and found only on remotest places. But Irwin was lucky enough to have an encounter with the legendary animals. With an experience of handling the reptiles, he managed to save himself from an attack of the Komodo dragons.
Steve Irwin's Emotional Encounter With Orangutan:
Not all of Steve Irwin's videos were aggressive encounters or scary stuff. This particular video shows how he was able to connect with them even emotionally. Despite being a complete stranger, the mother orangutan found some comfort in him.
It is indeed enthralling to watch how Steve made wildlife his comfort and how he loved animals with all his heart. He imbibed the same kind of love in his children. He may have been a favourite of the crocodiles, but Steve Irwin's love for animal knew no bounds. From smallest of reptiles to wildest of the wild, Steve Irwin showed a deeper bond than just love and his aim of conservation throughout his life. He may be no more with us, but we wish him with all our heart, Happy Birthday Steve!