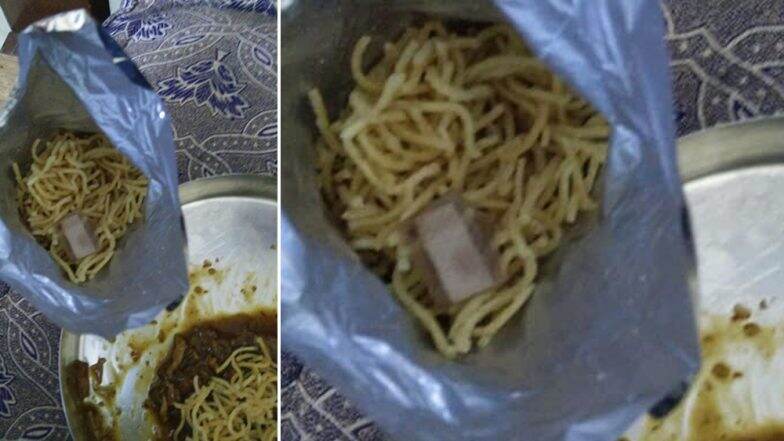 Chennai, February 11: Online food ordering and delivery app Swiggy received online condemnation after a man in Chennai found a used blood-stained bandage in the food he had ordered through the application. In a Facebook post, Chennai resident Balamurugan Deenadayalan narrated his ordeal that he faced after ordering food through the Swiggy app. After the Facebook post went viral, Swiggy assured to conduct an investigation into the matter.
Balamurugan on Sunday ordered chicken schezwan chopsuey from Chop N Stix through the Swiggy app. After eating half his food, he noticed a used blood-stained bandage in his noodles. In his Facebook post, Balamurugan said he complained about the incident to the restaurant but didn't receive a positive response. He also alleged that the customer care service of the Swiggy app didn't respond to his complaint. Food Delivery Apps Like Swiggy and Zomato Bet Big on Artificial Intelligence to Boost Delivery in India.
"Contacted restaurant and they aren't sensitive and offering replacement for the food! Who again wants to eat such contaminated food! Tried to contact Swiggy, no option to call them directly through app for already delivered food and only option is to chat but they aren't responding either! (sic)" Balamurugan wrote. "Want to badly sue both restaurant and Swiggy too for partnering with restaurant which doesn't practice general hygienic method (sic)," he added.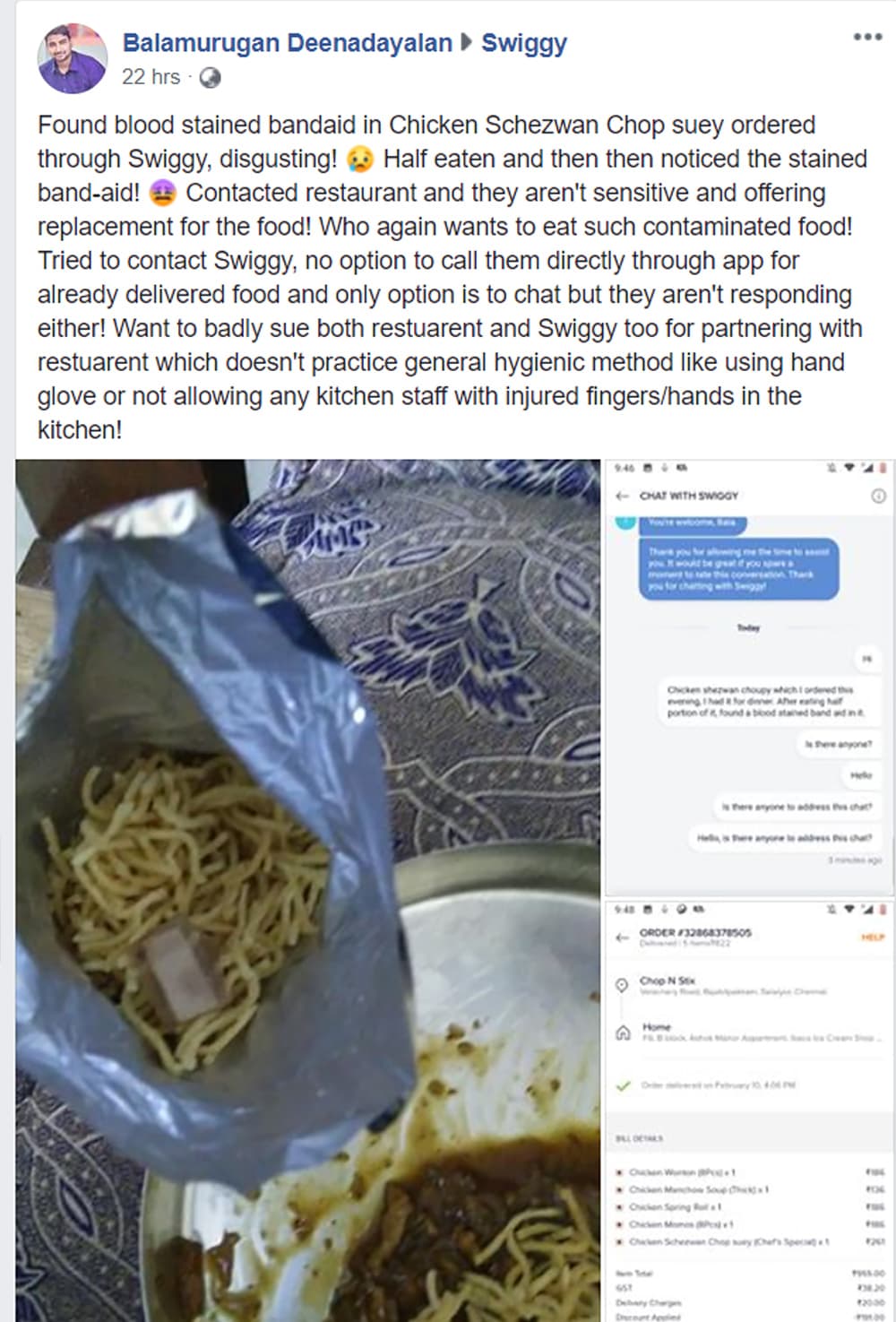 Responding to Balamurugan Facebook post, Swiggy apologised and assured an investigation. "We assure you, we will definitely carry out a stringent investigation on the restaurant to find out what caused the mishap," Adnan from Swiggy commented on his post. Reacting to the incident, Shankar, an assistant manager at the Chop N Stix restaurant, said they offered a refund. Swiggy Says 2,000 Women to Join Food App for Delivery Across India.
"One of our staff members in the packing section had an injury, so the bandage came by mistake. We have assured him that this will not happen again and we will take care of the issue. We spoke to the customer directly and asked if a refund would be acceptable to him. He asked us not to do it again. He is a regular customer," he told a news portal.