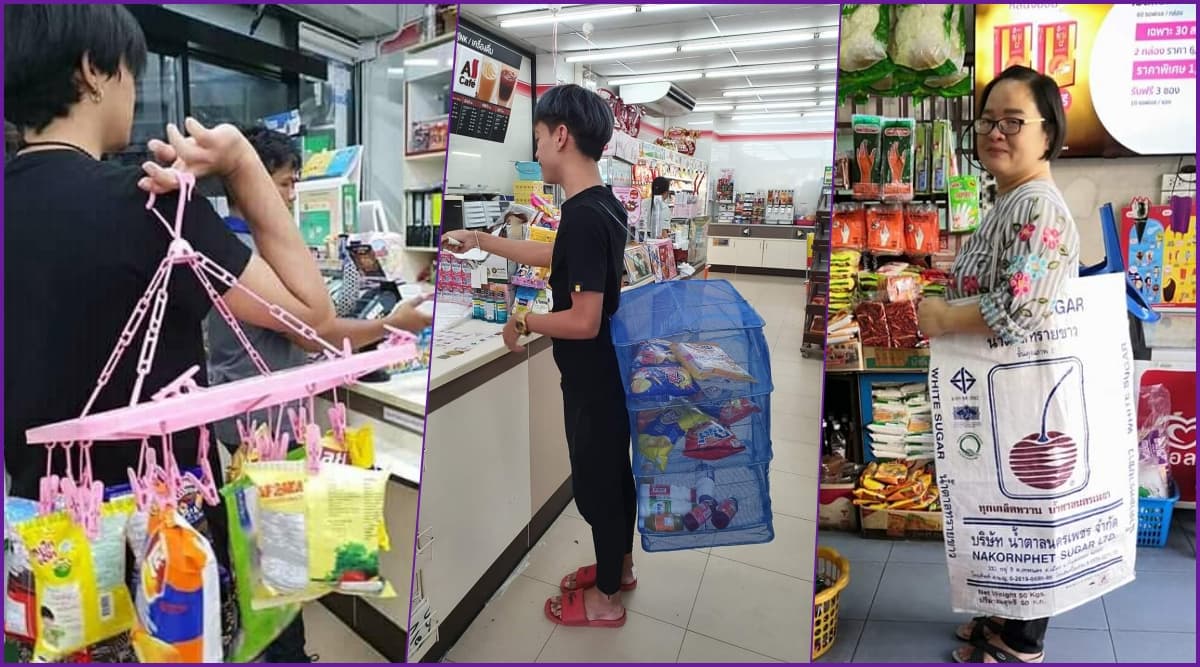 Thailand began the New Year 2020 with a very important and much-needed decision of plastic ban. All major stores in the country have decided to abide by the ban and people of the country are also ready for it! From utilising t-shirts, hangers to even bird cages, people are getting creative while shopping. Pictures of their creativity are being shared on social media and they will definitely remind you of Indian jugaad! No availability of plastic bags would mean some inconvenience while carrying the cold or wet stuff like meat packages, ice cream packets, so on but the residents here have ensured they would use anything and everything but not plastic. Plastic Ban in India From October 2: What is Single-Use Plastic? Which Items Will be Banned And What Won't be? All Your Questions Answered.
Several pictures of people shopping from different stores have been shared on Facebook and Twitter. And who would have thought, a birdcage could work as a replacement for the bag too? So people are turning into shops with rucksacks, clip hangers, woven sacks, buckets, utensils to even suitcases for bulk shopping! Check some of the pictures that are going viral. These Funny Pictures Prove Indians are Best at Creativity with Jugaad.
How Thailand People Are Dealing With Plastic Ban:
Thailand started 2020 with a major plastic bag ban so now Thais have made it a trend to put their shoppings in random things & i'm living for it LMFAO pic.twitter.com/7QtkMD1oax

— siam (@sihamese) January 4, 2020
Thailand started 2020 with a plastic bag ban. So the people decided to get creative 😂😂 pic.twitter.com/RT0u65ZcrL

— Common Asian Girl (@asiangirl101_) January 4, 2020
The pictures shared over social media has made the internet fall in love with people's welcoming of the ban so well. It has also inspired others to reuse other things instead of carrying plastic. Check some reactions below.
Getting Ideas For Reusing
imma reuse my rice bags like this from now on

— izy (@zzsleeps) January 5, 2020
THE REUSED RICE GRAIN BAG. IM DYING GRANDMA!!

— it's connieeeeeee (@ctrannnnnn) January 5, 2020
We All Need to Adapt
this is how we should all be shopping

— tater bottom (@ceenavangsta) January 5, 2020
Loving it!
An whole nation is an entire mood

In love with this

— Gabriel Tenorio (@TenorioPraxGab) January 5, 2020
Comical Yet Resourceful
I appreciate this trend a lot!

It's comical yet also innovative and resourceful.

— Natural Fluffite (@BlauFlau) January 5, 2020
Here Are Some More Pictures: 
These pictures are going viral and the idea of using such alternatives have impressed so many people on the internet. It is also a nice lesson to everyone else around the world about how to deal with a plastic ban. It is a much-needed move that we hope gets practised similarly in many other nations.