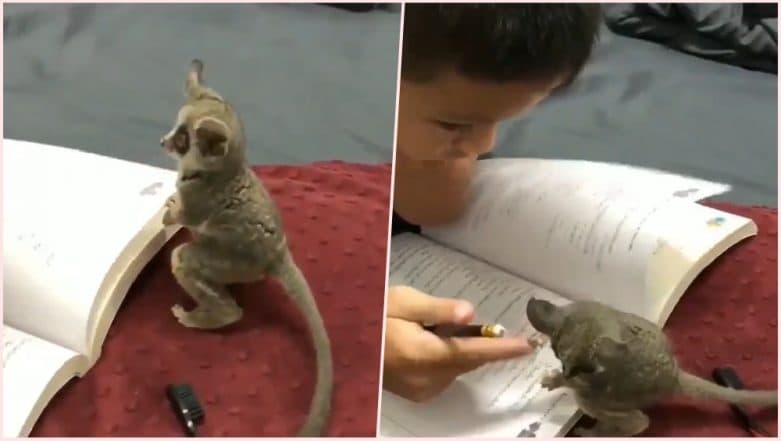 Kids and homework do not really go well together. Well, at that age, every kid hated studying and homework seemed no less than a punishment. Even today each parent is finding out ways to get their child interested in doing their homework. But the latest video on the internet beats them all. To help a child do his homework, a little mouse lemur is seen helping a boy complete it. The little creature is seen helping the master to concentrate on his study, making it cute by his expressions. Netizens cannot get enough of the short clip. No Homework For Class I & II School Children, Parliament to Soon Introduce Bill, Says Prakash Javadekar. 
The cute video was uploaded on October 21 by 'Animals R US;' an animal rescue group in the United States. Hours after it was shared on social media, the video grabbed over 15,000 views (and still counting). The caption reads, "Helping with the homework." However, the video was originally uploaded by a Spanish animal lover Twitter handle, 'Mother Nature.'
Watch the video of little mouse lemur helping the kid in his homework. 
Helping with the homework. pic.twitter.com/WbfRxRpqp2

— ANIMALS R US (@Animal_R_Us) October 21, 2018
Isn't it the cutest? Parents, if your kids get hands on this little mouse lemur, we bet you won't have to worry any more regarding completion of homework. Besides, their official pages include more such videos of the beautiful animals in their delightful time. Mouse lemurs are tinniest in the animal land. They have a combined head, body and tail length of less than 27 centimetres. They are omnivorous which means their diets are diverse and include insect secretions, gum, fruit, flowers, nectar and also leave and buds depending on the season.