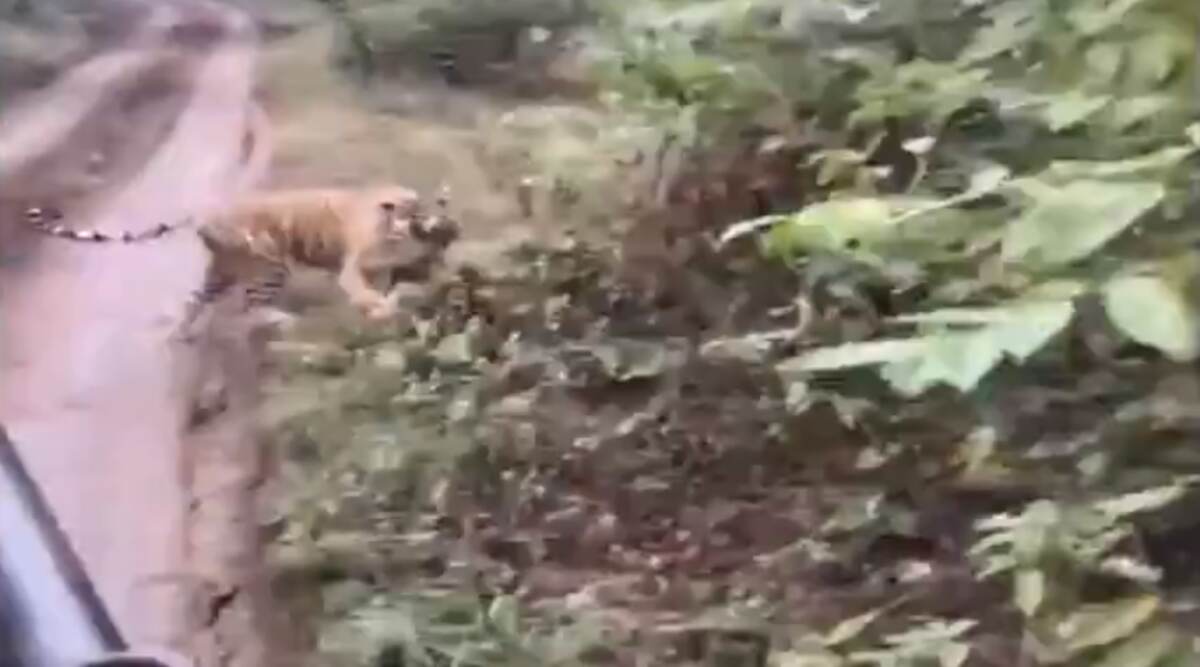 Sawai Madhopur, December 2: A group of tourists were chased by a tigress while on a tiger safari in Rajasthan's Sawai Madhopur. The incident, which occurred inside the Ranthambore National Park on December 1, Sunday, was captured on camera. The heart-stopping video of big cat's chase has gone viral online after it emerged on social media on Monday. Tiger Chases Bikers in Kerala's Wayanad, Viral Video Scares Netizens.
In the 10-second-long video, three-year-old tigress, Sultana, is seen furiously running alongside the open-top safari jeep. In a precautionary step, the driver reverses the vehicle, but the big cat increases her pace and starts chasing it again. According to reports, the tigress chased the vehicle for close to 50 meters. Man Vs Wild: Angry 1000-kg Rhino Chases Two Bikers, Viral Video Scares Netizens.
Watch Video:
#WATCH Rajasthan: Tiger chases a tourist vehicle in Ranthambore National Park in Sawai Madhopur. (1 December 2019) pic.twitter.com/CqsyyPfYn2

— ANI (@ANI) December 2, 2019
The incident took place in Zone 1 of the famous tiger reserve on Sunday evening. Nobody was injured in the incident. Reports suggest that the driver had stopped the vehicle very close to the feline, making her angry. Ideally, a vehicle should maintain a distance of at least 50 meters from any wild animal.
This is not the first incident of big cats chasing humans. Earlier this year, a video of tiger chasing two bike-borne men on Karnataka-Kerala border near Wayanad district went viral. In the clip, the tiger was seen chasing a bike.