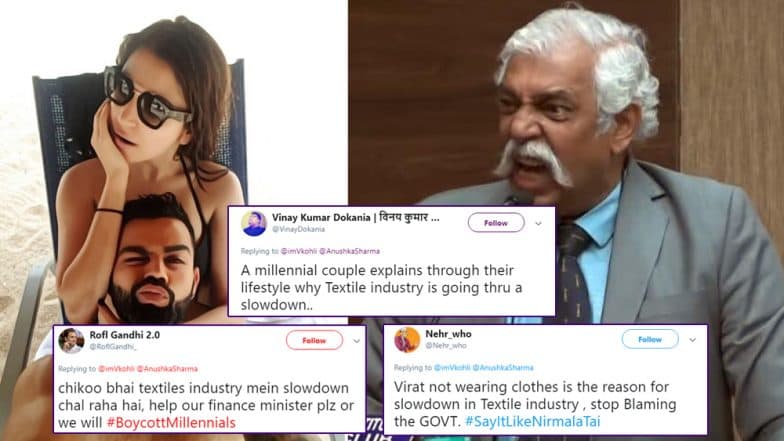 Virat Kohli and Anushka Sharma are just killing it with their vacay game online. They are taking Instagram and Twitter by storm with their sizzling hot pictures from beautiful beaches in the West Indies. However, in one of the recent photos shared by the cricketer, he can be seen shirtless (again) and Anuskha Sharma was in a bikini (we are assuming because it is not a full-length picture). The couple flaunted a total loved-up pose where Virat is lying on Anushka's lap. But now, let's take a break from all the romance and talk about Nirmala Sitharaman, shall we? Yeah, if you are as clueless as I was a few hours ago, here's what's up! Who Are Millennials? Why Is #BoycottMillennials Trending on Twitter?
Netizens being netizens, they have started making memes and jokes with the super romantic picture, except, it features India's finance minister, Nirmala Sitharaman. If you remember, Sitharaman had recently said that millennials were partially responsible for the dip in the country's auto industry? Yes, now they are talking about the textile industry and our falling economy. Case in point, this latest picture of Virat Kohli and Anushka Sharma, where they are barely wearing clothes (also, they're at the beach, what do you expect?). Nirmala Sitharaman Blames Millenials' Mindset for Auto Slowdown, Says They Prefer Uber, Ola Over Buying Vehicles. 
Anyway, netizens have been spinning some of the funniest memes and jokes about the textile industry "suffering a loss" because Virat Kohli and Anushka Sharma are not buying clothes, LOL. They are so funny and you will for once forgive them for trolling Virat and Anushka unnecessarily. All the hilarious memes and Jokes are based on Nirmala Sitharaman's recent statement that caused #SayItLikeNirmala and #BoycottMillennials to trend on Twitter. If you are a millennial and aren't aware of #BoycottMillennials that was recently trending on Twitter, are you even a millennial anymore? Well, just to give you a bit of a backstory, Nirmala Sitharaman had said that the change in the mindset of millennials, who now prefer taxi aggregators like Ola and Uber instead of committing for monthly instalments to own a car, was among one of the many factors responsible for the slowdown in the automobile sector. This statement was also based on reports by Maruti Suzuki India.
But, first, check out Virat and Anushka's Love-Dipped Picture:
— Virat Kohli (@imVkohli) September 11, 2019
Here Are the Funny Memes and Jokes Going Viral on Twitter:
This Is What Truth Looks Like
Virat not wearing clothes is the reason for slowdown in Textile industry , stop Blaming the GOVT. #SayItLikeNirmalaTai

— Nеhr_who (@Nehr_who) September 11, 2019
Worth Pondering
Batao yaar, Virat Kohli aur Anushka Sharma jaise crorepatiyon tak ke kapde utar gaye. Economic slowdown ka isse bada sign aur kya hoga?

— THE SKIN DOCTOR (@theskindoctor13) September 11, 2019
How Can You Possibly Boycott Millenials? They Form Like Half The Population
chikoo bhai textiles industry mein slowdown chal raha hai, help our finance minister plz or we will #BoycottMillennials

— Rofl Gandhi 2.0 (@RoflGandhi_) September 11, 2019
LOL, What?
— प्रोफसर Raja babu 🥳🌈 (@GaurangBhardwa1) September 11, 2019
CC: Calvin Klien
Disha Patani : pic.twitter.com/gXCEmWGigr

— Harsh 2.0 (@imHarshThakur7) September 11, 2019
Every Millennial RN
Millennials 👇 pic.twitter.com/vr8ldzfpFH

— Arun Arora (@Arun2981) September 11, 2019
Graphical Representation Of Economic Slowdown
A millennial couple explains through their lifestyle why Textile industry is going thru a slowdown..#NirmalaSitharaman 1

Millennials 0#SayItLikeNirmalaTai #BoycottMillennialshttps://t.co/jncQuZkLq0

— Vinay Kumar Dokania | विनय कुमार डोकानिया (@VinayDokania) September 11, 2019
Check Out Some Other Memes That Don't Include India's Economy:
Remember Vikram Baital?
Close Enough pic.twitter.com/9yQJUaoKQr

— Come On India 🙏🇮🇳 (@madam_jadeja) September 11, 2019
Gutthi
😍😂😍😂😍😂 pic.twitter.com/6s6NrR8b6a

— Cute Kamina (@bittu7664) September 11, 2019
LOLMAX!
Dheere Dheere apun ko guruji ka pyaar mila! pic.twitter.com/dxabULiDBF

— Achhaya Pathak (@frozen_parantha) September 11, 2019
I Can't Even
me n chikoo ❤️ pic.twitter.com/eXqbF75GGJ

— ㅤ ㅤ ㅤ ㅤ ㅤ ㅤ ㅤ ㅤ ㅤ ㅤ (@firkey_) September 11, 2019
The statement was said to be based on reports by Maruti Suzuki India. However, Maruti Suzuki disagrees with Nirmala Sitharaman after it said that millennials opting for Ola, Uber is 'not a big factor' in sales plunge. "The Ola and Uber factor may not be strong to contribute to the current state of slowdown. I think we need to watch and study it more before arriving at such a conclusion," MSI Executive Director (Marketing and Sales) Shashank Srivastava told PTI.