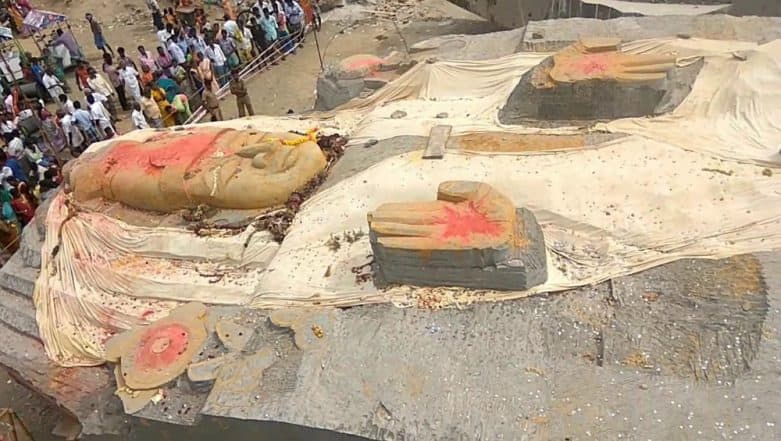 Devotees at a remote village were constantly striving reportedly from two years to shift a massive idol of Viswaroopa Mahavishnu to a temple in Bengaluru. It was a dream of the Dr Sadananda, trustee of Kothandaramaswamy Charitable Trust to install a 108-foot-tall Vishvaroopa Mahavishnu which has 11 faces, 22 hands, together with the seven-headed snake Adisesha over the deity's head. The arduous task to shift the idol is inching forward but slowly. It has been loaded onto a trailer with 240 tyres and has crossed 300 metres in the last three days from the quarrying site. Lord Krishna and His 108 Names With Meanings in Hindi & English. 
TOI reported that during the struggle, a couple of tyres were flattened and then replaced so that the shift continues. The recent rains made their task more tough. Rajan Babu, manager of Mumbai-based logistics firm Reshamsingh Group, was quoted in the same report as saying, "Once the vehicle covers the initial 500 metres and enters Thellar-Desur Road, it will move at normal speed without any problem." The 30-member crew is hopeful to hit the main road tomorrow, December 10. The government nodal officer facilitating Kothandaramswami Charitable Trust, K S Kandaswamy further reported that the idol would be shifted in 50 days. Why Women Weren't Allowed Into The Lord Ayyappa Shrine? 
Watch the Video of Viswaroopa Mahavishnu Statue
The trust began its work to cut the rocks in October 2014 using the latest technologies. Many devotees offered prayers in front of the stones before the commencement of the action. Once it is placed at the Bengaluru's temple, it is expected to take another two years to give the idol a final shape. The vehicle with the giant sculpture will enter the Puducherry-Krishnagiri National Highway 77 at Deevanur and will pass through Thellar, Vellimedupettai, Gingee, Tiruvannamalai and Chengam before it reaches its final destination.