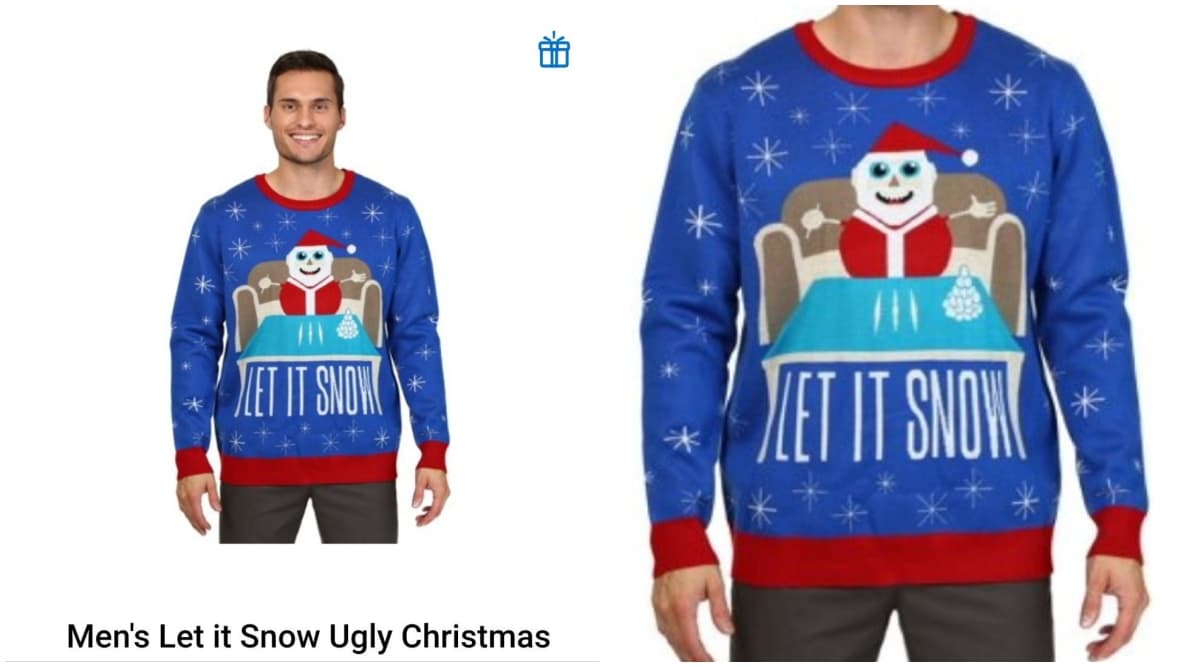 'Tis the season of jackets and sweaters as winters have begun and so have the Christmassy feels! With the festive holidays just a few weeks away, people are readying to welcome Santa Claus. Walmart too has a collection for the season but their happy high Santa has received a backlash from everyone. The design on their Christmas sweater saw Santa Claus doing drugs! The design had Santa Claus sitting on a table with three white lines, along with snowy feels all over. But the uncanny resemblance to coke lines in front of Santa did not go unnoticed by netizens. The idea got a lot of flak from the netizens and Walmart Canada has now apologised and even taken these sweaters off the site. Girl Shocked to Find Dead Goldfish in a Bag Her Mom Ordered Online.
Walmart Canada's website had these Christmas sweaters on sale. The blue-coloured sweater had snowflakes on them with a Santa Claus sitting on a table. Along with a few snowballs on the table, there were three lines. It looked very much like the lines of cocaine. The text on it read, "Let it Snow." Besides the product description on the site also reiterated the idea of doing drugs. The picture was shared on social media and it soon sparked angry reactions. Following the flak, the company has taken them down. Walmart to Stop Selling E-Cigarettes at Its Stores Following a String of Mysterious Illnesses and Deaths Related to Vaping.
Check The Christmas Sweater Here:
Yall. Look at this description for this Christmas sweater from Walmart pic.twitter.com/lBdmKQ1JoZ

— Jason John (@HurrbaSousJohn) December 7, 2019
Someone Had Too Much Fun on The Job!
If this is real, someone's having way too much fun with their job 😭

— Vinth Nadanasivan (@Vcrispy) December 7, 2019
Made in Poor Taste
Really poor tastes...very surprised sold through Walmart....to many people hooked on drugs so sad

— Tracey Wolf (@tboneredwolf) December 10, 2019
This is What Christmas is All About
"Doesn't anyone know what Christmas is all about?"

Fat lines and doing crimes!

— Jason Vajgrt (@WhosIntWhom) December 8, 2019
The company then gave a statement and took down the product. They were quoted to Global News, "These sweaters, sold by a third-party seller on Walmart.ca, do not represent Walmart's values and have no place on our website. We have removed these products from our marketplace. We apologize for any unintended offence this may have caused." Although the sweaters are off the racks, now a lot of people have expressed their interest in buying them.