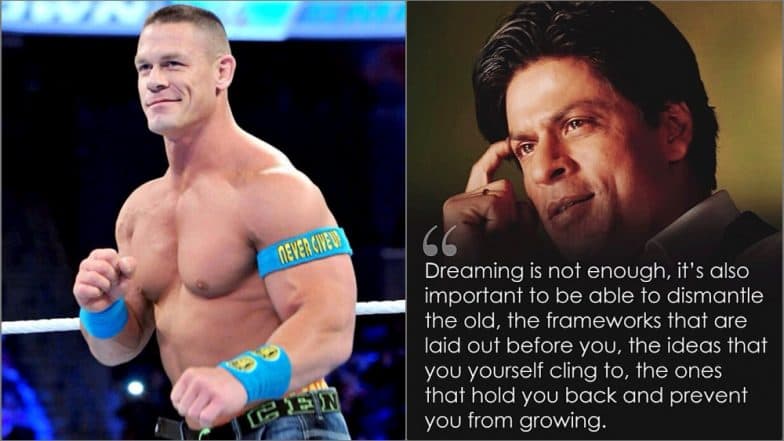 It looks like WWE legend John Cena is drawing inspiration from a Shah Rukh Khan quote, yet again. The 41-year-old American professional wrestler took to Instagram to share a picture of Bollywood superstar along with his famous quote on 'fulfilling one's dream' on Sunday. Unsurprisingly, the news spread like wildfire on social media with both SRK and Cena fans going gaga over latter's admiration for the Indian actor. But the real question remains – why John shared this quote on dream and success out of the blue? Does it have anything to do with WrestleMania 35? A lot is lot is written about his participation in the wrestling event scheduled to take place on April 7, 2019. Shah Rukh Khan is a True Global Icon: John Cena, Humanoid Robot Sophia to Justin Trudeau, All in Awe of SRK.
"Dreaming is not enough, its also important to be able to dismantle the old, the frameworks that are laid out before you, the ideas that you yourself cling to, the ones that hold you back and prevent you from growing." This quote of Shah Rukh Khan, which the 53-year-old actor has said while addressing to the alumni of the Indian Institute of Management – Bangalore (IIMB) in 2015. King Khan had delivered a fantastic speech to his energetic crowd on life and leadership. And it looks like SRK's online friend (the two are yet to meet in real life) Cena is reading his quote to motivate himself. Shah Rukh Khan Thanks His 'Friend' John Cena For 'Spreading Goodness'.
John Cena Shares a Shah Rukh Khan Quote on Insta
View this post on Instagram
WrestleMania 35 will be the thirty-fifth annual WrestleMania professional wrestling pay-per-view (PPV) event and WWE Network event produced by WWE for their Raw, SmackDown, and 205 Live brands. It will take place on April 7, 2019, at MetLife Stadium in East Rutherford, New Jersey. But unlike previous editions, the 16-time world champion is not among the frontrunners. John Cena is a part-timer who wrestles occasionally and making a mark at WrestleMania 35 is an uphill task. As per the Rumor Roundup on Cagesideseats.com, John Cena is still expected to wrestle at WrestleMania 35, WWE has not made it clear on who is going to star wrestler's opponent.
Nevertheless, Cena fans will be excited to know of his participation. Here's a glance at his achievements - Cena has headlined several major WWE pay-per-view events, closing the company's flagship annual event, WrestleMania, five times. He has also won several championships in his career, being a five-time U.S. champion, a four-time world tag team champion, and a sixteen-time world champion, a WWE record. John Cena is also a two-time Royal Rumble match winner, and a Money in the Bank ladder match winner. Well, impossible is nothing.