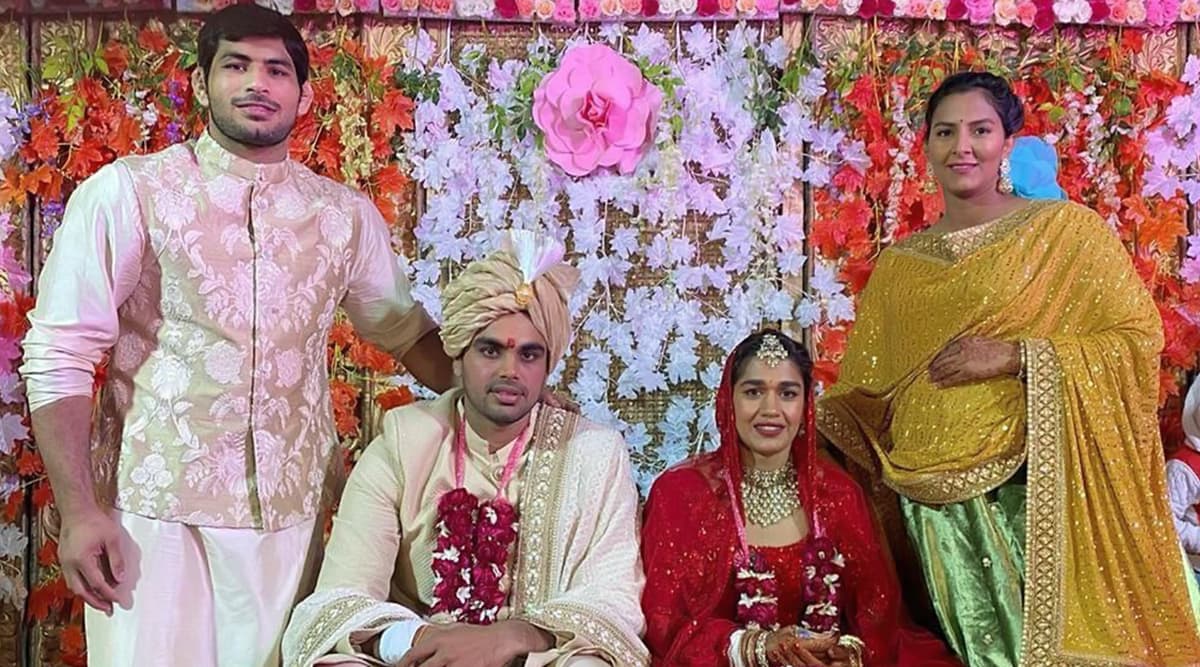 Commonwealth Games gold medallist Babita Phogat married fellow Indian wrestler Vivek Suhag on Sunday (December 1). The sports-celebrity couple took part in the dance reality show Nach Baliye 9 this year. The star Indian wrestler Babita Kumari had shared photos of her pre-marriage ceremony on her official Instagram profile. After her wedding, her sister Geeta Phogat shared her wedding photos on Instagram. According to reports, Babita took an extra wedding phera during her wedding. She took 8 pheras around the holy fire instead of seven. She did that to raise awareness about women empowerment.
Her sister Geeta Phogat shared the photos of her wedding pictures on her Instagram account. Geeta, who is also a wrestler by profession, congratulated her sister for getting married. Have a look at Babita Phogat and Vivek Suhag's wedding photos below.
Bride!
Have a Beautiful Journey Ahead!
View this post on Instagram
Happy Married Life!
Bless You!
Phogat, who recently lost Haryana Assembly Elections 2019 on a BJP ticket, had earlier shared photos from her pre-wedding ceremony. She also posted a video of a marriage ritual. In the video, her family and relatives were seen giving her blessings as she tied the knot with Vivek Suhag.  She had shared a photo of her hands in a beautiful bridal dress, which were decorated with Mahendi designs. She also thanked Mahendi designer Mamta Tater for her work. "Thank you @designer_mehndi_mamta_tater for beautiful Mehandi", she wrote on Instagram along with the photo.
Babita Phogat, who has won multiple gold medals for India in the sport of wrestling, also shared photos with her family on Instagram. She had shared the pre-wedding photos earlier. Have a look at Babita Phogat's pre-wedding wedding pictures and videos below.
Lovely!
Celebrations On!
View this post on Instagram
Happy Married Life!
Bless You!
Reports also suggest that the newly-wed couple Babita Phogat and Vivek Suhag will host a reception in their village in Balali in Haryana. Babita rose to fame with success in Commonwealth Games 2009 when she won a Gold Medal in Women's Freestyle 51 kg category. In 2012 World Wrestling Championships, she also won a Bronze Medal. A Bollywood film titled Dangal was based on the lives of Babita and Geeta Phogat.
The movie revealed about their journey to become India's most successful female wrestlers under their father Mahavir Phogat's guidance. In June 2019, Babita had announced her engagement to fellow wrestler Vivek Suhag. Babita Phogat joined BJP in August 2019 from Dadri, however, she lost to BJP Rebel Sombir Haryana assembly elections 2019 in October.