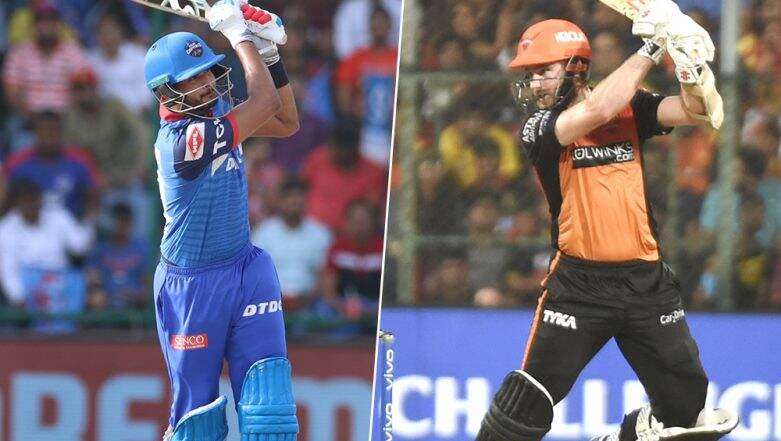 The only Eliminator match of the Indian Premier League (IPL) 2019 season will witness Delhi Capitals (DC) clashing against Sunrisers Hyderabad (SRH) on May 8. The second playoff match of IPL 12 between DC and SRH will be played at Dr Y.S. Rajasekhara Reddy ACA-VDCA Cricket Stadium, in Visakhapatnam. Both Delhi and Hyderabad have had contrasting campaigns this year, and will be looking forward to making most of the opportunity tonight. DC vs SRH, IPL 2019 Eliminator Match Preview: Can Delhi Capitals Overcome Sunrisers Hyderabad Challenge at VDCA Cricket Stadium?
The winner of IPL 2019 Eliminator match will see them qualify for Qualifier 2, a step closer to IPL 12 Final. After winning the game tonight, either of Delhi Capitals or Sunrisers Hyderabad will be locking horns against Chennai Super Kings (CSK) on May 10. Taking a glance at the past records and current form, we at LatestLY bring you the predictions and winning chances in DC vs SRH, IPL Eliminator 2019 match. DC vs SRH, IPL 2019 Eliminator, Key Players: Shreyas Iyer, Rashid Khan, Rishabh Pant And Other Cricketers to Watch Out for at VDCA Cricket Stadium in Visakhapatnam.
Match Preview:
Delhi Capitals are in a tremendous form coming into the match, after having won seven matches of their last nine games. On the other hand, Sunrisers Hyderabad has only won 1 of their last five matches.
Also, both Delhi and Hyderabad will be playing the match without their best players this season. Delhi's Kagiso Rabada has returned home after an injury scare, and for Hyderabad, David Warner and Jonny Bairstow have been called on national duty with ICC World Cup 2019 looming ahead. DC vs SRH IPL 2019 Eliminator: Delhi Capitals Shares a Video of Rishabh Pant Speaking About Their Upcoming Clash Against Sunrisers Hyderabad (Watch Videos)
In IPL 2019 (DC vs SRH)
In IPL 2019, both teams have won a match against each other. Their first match of the season saw Hyderabad win the low-scoring affair by 5 wickets in Delhi. The second match saw Delhi Capitals defeat Hyderabad at their home turf by 39 runs.
In IPL 2019 Overall:
Delhi Capitals has had a great season this IPL, so much so, that they were on the top of the IPL 2019 Points Table for a brief period. In 14 matches they played, Delhi won 9 matches and lost 5, for which they earned 18 points (same as the top two teams – Mumbai Indians and Chennai Super Kings) with a higher Net Run Rate (NRR) amongst the top three.
On the other hand, SRH began stupendously but floundered in the business end of their campaign. In 14 matches, the team won 6 and lost 8 matches which fetched them 12 points, and a higher NRR amongst Kolkata Knight Riders, and Kings XI Punjab, saw them through.
Who will win DC vs SRK IPL 2019 Eliminator match tonight?
It is a bit tricky to predict a winner in tonight's game. The numbers game is in favour of Sunrisers Hyderabad. However, the current form suggests that it will be Delhi Capitals. In the current season, both teams have tasted success against each other once, but given the form that respective team is in, it is Delhi who holds an edge over their opponents, Hyderabad.
In the last five matches played between them, Sunrisers Hyderabad has a slender lead 3-2. At Visakhapatnam, the venue, the Orange Army have played five games earlier, where they have won 3 and lost 2.
In their head-to-head record, Sunrisers Hyderabad has an impressive record over Delhi Capitals. In 14 matches the teams have played against each other, Hyderabad has won in 9 of them, whereas, Delhi has won only 5 games.
Keeping the past records and numbers in consideration, and not to forget taking the current form in ambit, Delhi Capitals still have a slight advantage over Sunrisers Hyderabad. Both teams are missing their key players; nonetheless, the batting-heavy Delhi unit might prove a little too much for Hyderabad.
Our prediction: Delhi Capitals – Sunrisers Hyderabad (60% - 40%)
Mumbai Indians have already qualified for the IPL Final. CSK is awaiting the winner of this match to compete against them in the Qualifier 2 game. Both Delhi and Hyderabad have had a different campaign this year. How they step up for their last game (maybe) of the season will be a delightful watch for the fans. Stay tuned to LatestLY for all the latest news and updates about Indian Premier League (IPL) 2019.