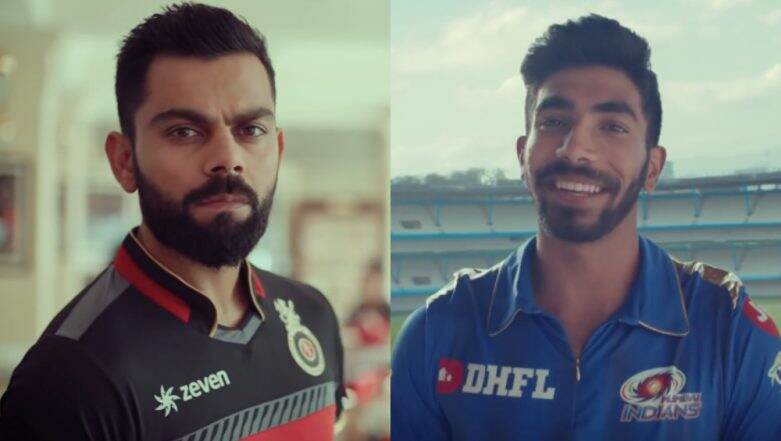 The Indian Premier League 2019 or IPL 2019 is around the corner and broadcaster Star Sports has released few teasers to set the ball rolling. In the first teaser, Delhi Capitals' formerly Delhi Daredevils wicketkeeper Rishabh Pant was seen teasing Chennai Super Kings (CSK) skipper MS Dhoni. In the video, Pant hopes to show his best game to Dhoni during the IPL 2019. Now in the second teaser video, Mumbai Indians' (MI) fast-bowler Jasprit Bumrah challenges Royal Challengers Bangalore (RCB) captain Virat Kohli. IPL 2019: Delhi Capitals' Rishabh Pant TEASES CSK Thalla MS Dhoni Ahead of IPL 12 (Watch Video).
Bumrah, in the video, feels his tag of the world's best bowler is incomplete as he has to pick world's best batsman- Virat Kohli's wicket for that. "Aa raha hun Cheeku bhaiyya, aur is Baar app merry team mein bhi nahi rahenge (I'm coming for you Virat Kohli, and this time you ain't in my team)," says Bumrah.
The IPL 2019 kicks off from March 23 onwards. The Board of Control for Cricket in India (BCCI) earlier released the IPL 2019 schedule for just first two weeks, however, that is subject to the announcement of the Lok Sabha 2019 election dates. As per the cricket board, "once the election dates are released we will address any issues with the first two weeks and also prepare a schedule for the remainder of the season working with the local authorities around the polling dates." IPL 2019 Schedule in PDF: Download VIVO Indian Premier League 12 Full Timetable With Fixtures, Matches, Team and Venue Details.
Here's the video:
As per the fixture related by BCCI, during the first two weeks, every team will play a minimum of two home and as many away matches with Delhi Capitals playing three home matches, while RCB will play three away matches.
In the opening game of the season, Chennai Super Kings will be up against RCB. Mumbai Indians will open their campaign on the second day of the tournament. Fans will get to see the Bumrah vs Kohli battle on March 28 at RCB's home ground.