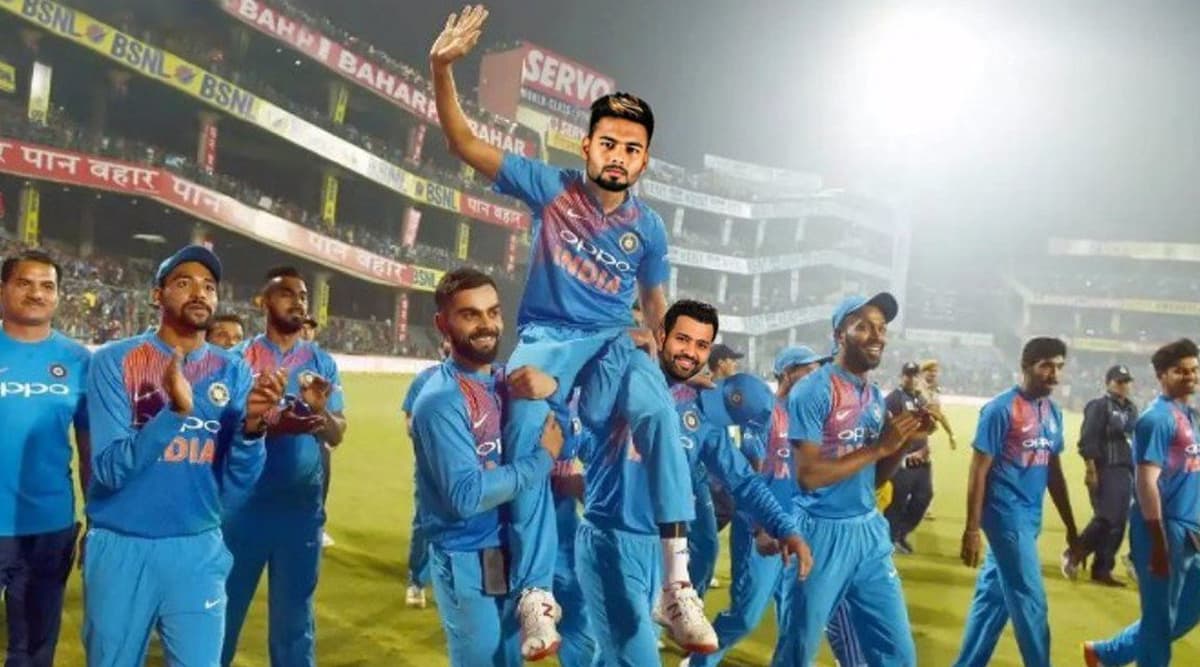 One match after giving fans some hope, the Indian selectors and team management some respite, Rishabh Pant was back to his deficient self. Sent to bat at first-down with India comfortably placed at 135/1 in 12 over, Pant was dismissed for a two-ball duck cupping off another disappointing performance for India and giving the trolls another field day during the 3rd India vs West Indies T20I encounter at Wankhede, Mumbai on December 11, 2019 (Wednesday). His last half-century also came against the West Indies four months ago when both these teams last met in the United States and since the closest Pant has come to hitting another T20I fifty in the 2nd T20I IND vs WI encounter where Pant remained not-out on 33 runs from 22 deliveries, albeit in a losing cause. India Vs West Indies, Live Cricket Score 3rd T20I Match.
Pant arrived in the crease in the fourth delivery of the 11th over after Rohit Sharma was dismissed by Kesrick Williams following a quick-fire 71, which included 5 maximums and 6 boundaries, and a 135-run opening stand with KL Rahul. But the hard-hitting left-handed wicketkeeper-batsman, under no pressure to score quickly, lasted just two deliveries before holing out to Jason Holder while chasing a full outside-off stump delivery off Kieron Pollard. His dismissal left India in a spot of bother with the hosts suddenly reduced from 135/1 to 138/2 in the space of four deliveries. Virat Kohli Becomes First Indian to Complete 1000 T20I Runs at Home, Achieves Feat During India vs West Indies 3rd T20I 2019.
Rishabh Pant Whenever Kohli Sends Him to Bat
Going to use Nana Patekar shamelessly for this

Rishabh Pant whenever Kohli asks him to go bat #INDvWI #selectdugout pic.twitter.com/sbPOg9rURw

— cold brew bot (@AnirudhA95) December 11, 2019
Indian Fans After Watching Pant
M.S.Dhoni After Watching Star kid of india..#RishabhPant pic.twitter.com/vpcQpPWk6d

— Yash (@i_m_yash__) December 11, 2019
Pant On Their Shoulders!!
Thank You Rishabh Pant, We will never forget your contribution to the Indian Team 🙏 #INDvWI #ThankYouPant pic.twitter.com/wCYn24PzsZ

— Come On India 🙏🇮🇳 (@madam_jadeja) December 11, 2019
Meanwhile Pant After Getting Out
Rishabh Pant after getting out at 0...#INDvsWI pic.twitter.com/tRt8qIzXxf

— Devesh Salke (@SalkeDevesh) December 11, 2019
Rishabh Pant's Contribution to India's Total
Rishabh Pant's contribution to the team in T20Is#INDvWI pic.twitter.com/AGRiVJMty2

— Snehil (@Snehil_96) December 11, 2019
Everyone When Rishabh Pant Walks Out
Rishabh pant goes for the six & gets out

*Everyone pic.twitter.com/CVx0sXB0mW

— Kisslay Jha🇮🇳 (@TrollerBabua) December 11, 2019
Meanwhile Virat Kohli and Fans
Crowd chants Rishabh Pant...

Rishabh Pant goes for a duck

Crowd & Virat : pic.twitter.com/COTJjeHmy7

— Taunting Tom (@TauntingTom) December 11, 2019
Not-Stable Any More!!
Rishabh pant's Career Right Now #INDvsWI #INDvWI #WIvsIND #RishabhPant #RohitSharma pic.twitter.com/g4YDNgtcGS

— Shivam Rajput🇮🇳 (@Cric8premi) December 11, 2019
Blindfolded!!
How team management is backing Rishabh Pant#INDvWI pic.twitter.com/alZj90CRpM

— Snehil (@Snehil_96) December 11, 2019
Everyone on Seeing Pant Out
We seeing Pant getting out for duck 0 (2) & failing to perform in crucial time for the team.#RishabhPant #INDvsWI pic.twitter.com/9l4aKW8Sj9

— Indian Fantasy League (@ifltweet) December 11, 2019
Rishabh Pant Retirement Bill?
@AmitShah please pass a bill for banning Rishabh Pant in playing international matches #INDvsWI

— Dr. Bewda Rick (@SavageRaptor7) December 11, 2019
How Many More?
Akhir kitna mauka milega #pant ko, itna mauka kisko mila h aaj tak. Isi ko kyon rkhna h aur koi wicketkeeper nhi h india m.

— ᴀʙʜɪꜱʜᴇᴋ 🇮🇳 (@abhishekStiwary) December 11, 2019
Pant And Ducks
Pant 0 🕺🕺

— Ashwin (@AshAshwin111) December 11, 2019
Is Everyone Expecting?
Expecting Sanju from next series #Pant #Sanjusamson #INDvWI

— Radha Krishna Reddy (@RadhaReddymr) December 11, 2019
The 22-year-old's last six innings has produced 107 runs with 33 being his individual highest-score. Pant scored the first of his two T20I half-centuries in his 7th T20I appearance, which was 38-ball 58 against the same opposition in 2018. Since then, Pant has played 19 more Twenty20 International matches for India but has managed only one more half-century. His two-ball duck against the West Indies at Wankhede was also his third T20I duck in 26 appearances.
Meanwhile, despite Pant's disappointment, India have completely dominated the West Indies bowler after being asked to bat first. Rohit Sharma (71) and KL Rahul stitched 135 runs for the opening stand before Rohit's dismissal. But Kohli and Rahul together have since continued the annihilation of West Indies' bowlers and have already taken India past the 200-run mark with still three overs to play.