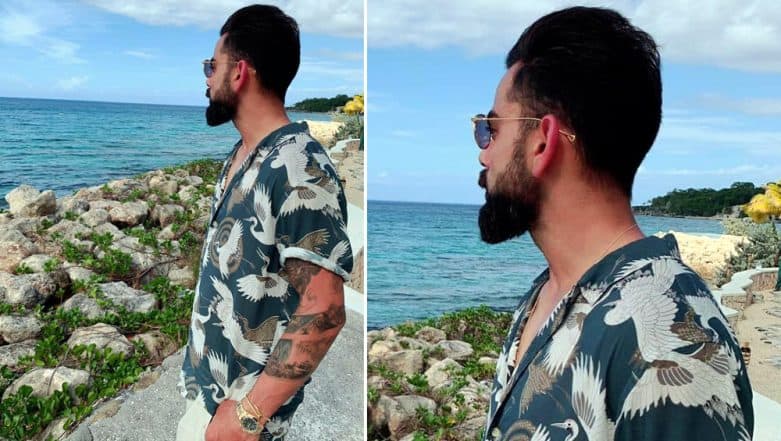 Virat Kohli is one of the most followed cricketers in the world and also among the stylish one. In his latest post on Instagram, the Indian skipper flaunted his Rolex watch and tattoo and the post became viral among Indian cricket fans. In the photo, Kohli wore Rolex Daytona Rainbow Everose Gold, one of the costliest in the market. The watch which Kohli wore costs approximately Rs. 70 lakh and consists of an everose case with end pieces made of diamonds. He also showcased his left hand's tattoo, and his killer look was admired by his followers. Kohli is the brand ambassador of Tissot, a Swiss luxury watchmaker company. Virat Kohli Funny Memes Go Viral! His Bare-Chested Photo Used to Poke Fun at Falling Economy and Heavy Fine Due to New Traffic Rules. 
Kohli is very active on social media and shares regular posts with his fans. His workout photos and videos create a buzz on social media, but this post was a little different, revealing Kohli's stylish avatar. Kohli is standing near a beach in a cool pose. Have a look at the post below. 'Anushka Sharma Was Told Virat Kohli is Not That Tall'! Indian Skipper Opens up About His First Meeting With His Ladylove. 
Virat Kohli flaunts his Stylish Avatar!
View this post on Instagram
The post received many positive comments for the 30-year-old cricketer, unlike Kohli's last post in which he became a victim of trolls. On Thursday, Kohli had shared a bare-chest photo of himself showing his chiselled body. Twitterati responded with many funny memes over the post, comparing the Indian captain's photo with falling Indian economy and higher fines under new traffic rules. Kohli is on the top of his confidence after Team India's T20I, ODI and Test series victory over West Indies under his leadership. Kohli showed a brilliant form with the bat throughout the tour and also smashed centuries in 2nd and 3rd ODI.