Indian cricket team captain Virat Kohli, who turns 30 today, will be celebrating the special day with his wife Anushka Sharma. We have learnt that actress Anushka Sharma has special plans for her hubby. Virat Kohli has been rested from the Indian T20 team as part of workload management for the ongoing three-match T20 series against the West Indies. This means that the skipper has some time off from his busy schedule and Kohli has planned some leisure time with his loved ones to mark his 30th birthday. Fans from all over the world are quite excited on the special day of their icon and have been posting wishes on social media to wish the skipper. However, Wikipedia has decided to play the spolsport on the Indian captain's 30th birthday and committed a silly mistake that might not go well with fans of the 'run-machine' Virat Kohli. Virat Kohli to Celebrate 30th Birthday at Dehradun, Wife Anushka Has Special Plans for Hubby (See Pics).
As we were going through the Internet to check a few updates, what we noticed was a goof up made by Wikipedia which can change your notion of age and time. Jokes apart, according to Wikipedia, Virat Kohli's age is 9 years old! Yes! You read it right. According to Wikipedia, his date of birth is November 18, 2008. The search page went on to mess around with Virat Kohli's height which and made the Indian captain a living statue measuring 30.4 meters! The dubious page said that Kohli is nicknamed 'Viru'. Virat Kohli Birthday Wishes & WhatsApp Messages: Send Greetings to Indian Captain on His 30th Birthday With These Sweet Quotes on Facebook and Twitter!
Check Out the Snapshot of the Goof-Up Below.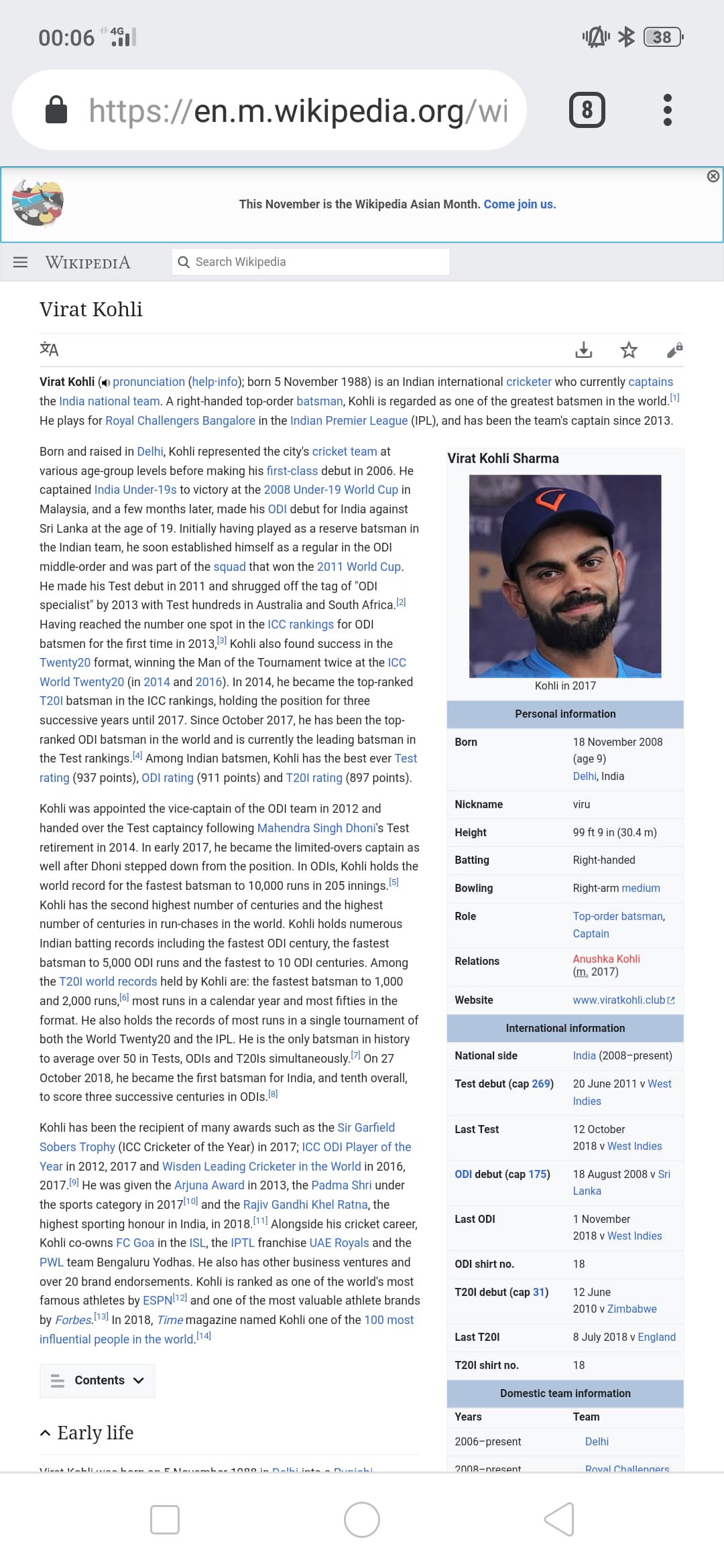 The goof up apart, reports say that the power couple has flown to Dehradun in order to celebrate the special day. Immediately after the launch of Zero's trailer, Anushka Sharma headed straight to the airport and was seen with Virat. Dressed in white, Anushka wore a white Gucci top and track pants of the same colour.
The 'Zero' film actress paired up her outfit with black shoes. Virat, on the other hand, looked sporty donning looking sporty in a black t-shirt, black track pants and white shoes. The black cap enhanced his sporty look. Earlier in the day, we brought you the picture that went viral. In Virat's absence, Rohit Sharma is leading the team in the T20 series against West Indies and India won the first T20I on Sunday at the Eden Garden, Kolkata.