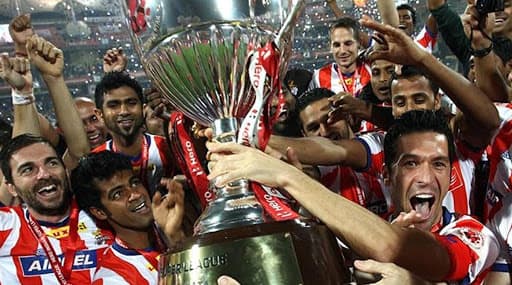 Two-time Indian Super League champions ATK and former I-League champions Mohun Bagan are reportedly set to announce a merger which will see the clubs play as one from the 2020-21 ISL season. Mohun Bagan are one of the most successful and oldest clubs in Indian football. ATK are having a brilliant campaign in ISL this season as they are third in the league standings, three points behind leaders FC Goa. Meanwhile, Mohun Bagan are top of their I-League table and are in the running to win their fifth top-flight league title. ISL 2019-20 Result: Kerala Blasters Do the Double Over ATK, Win 1-0.
According to a report from ESPN, ATK and Mohun Bagan are all set to join forces as the clubs have already signed a Memorandum of Understanding (MoU) and the official announcement could be made in the coming days. However, the details about the merged entity will only be fully known once the merger is made public. It was understood that Football Sports Development Limited (FDSL), a company that runs the ISL, were interested in including two of India's biggest clubs, Mohun Bagan or East Bengal in ISL since the franchised-based league started running simultaneously with the I-League from 2017-18. ''There have been reports about our merger for more than two years now. Every club looks to consolidate, either through tie-ups with sponsors or with other clubs,' a senior official from Mohun Bagan was quoted by ESPN. 'We'll announce any change in structure, which has been planned for some time now, as and when it happens.' The official added. ISL 2019-20: Hyderabad FC Announce Former Bengaluru FC Boss Albert Roca As New Manager.
Established on August 15, 1889, Mohun Bagan is one of the oldest existing association football clubs in India and Asia. They won the IFA Cup in 1911 and became the first Indian team to win the IFA Shield by defeating East Yorkshire Regiment as the competition was mostly dominated by British Army teams.