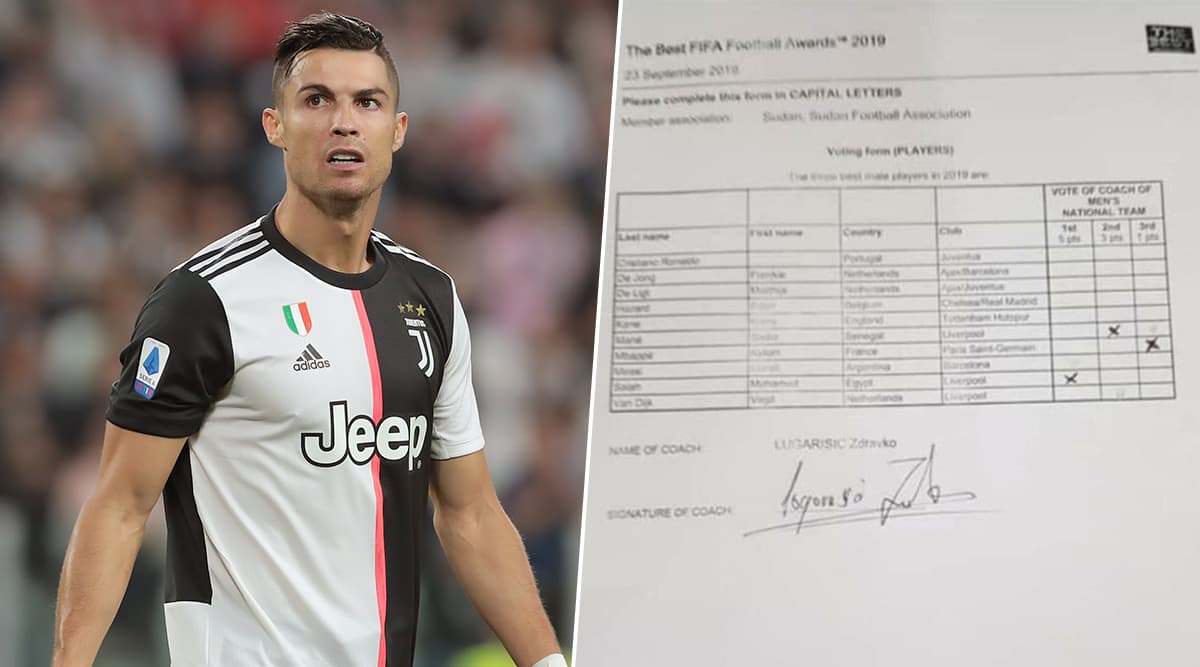 Cristiano Ronaldo fans are not ready to accept the fact that Juventus star was not chosen as the Men's player of the year in Best Fifa Football Awards. Barcelona star Lionel Messi has been voted as the best player, which has made Ronaldo fans furious. The Portuguese footballer fan has even gone to the extent to photoshop Sudan's head coach Fifa Men's Best Player voting form, as they tried to prove the award as fake. Let us see how it is proved as fake and what does FIFA body has to say on this. Lionel Messi Wins FIFA Men's Player of the Year Award as Cristiano Ronaldo Skips Ceremony, Megan Rapinoe Bags Women's Honour; Check Full Winners' List.
There has been a report that Sudan National Football team's head coach Zdravko Logarusic has cast his vote to Mohamed Salah as number one, with his teammate Sadio Mane and Kylian Mbappe in the top three. An inquiry is already on in this process, to make the matter even worse, Ronaldo fans have put the screenshot of Logarusic supposed voting ballot complete with his name and signature emerged. However, it clearly proved out to be a fake one. Cristiano Ronaldo Fans Troll Lionel Messi After Barcelona Star Wins Men's Player of the Year at Best FIFA Football Awards 2019, Check Funny Memes.
Fake Voting Form Made By Ronaldo's Fan 
Sudan head coach Zdravko Lugarisic claims that he made Mo Salah 🇪🇬 his first choice for #TheBestAwards but he was shocked to find out that his vote had gone to Messi.

He took a screenshot of the voting form and it has been attached below. Oh wow! 😳😳😳😳 https://t.co/RKDx4ereGq pic.twitter.com/AKQa6eee7r

— Usher Komugisha (@UsherKomugisha) September 25, 2019
Messi Chosen as The Men's Player of The Year in Best FIFA Football Awards
Congratulations, #LeoMessi

Winner of #TheBest FIFA Men's Player 2019 🏆#TheBest | #FIFAFootballAwards pic.twitter.com/MKh2wV5T1M

— FIFA.com (@FIFAcom) September 23, 2019
As per the FIFA's official voting documents, Zdravko Logarusic has chosen Messi as his first choice, Van Dijk second and Mane third. There has also been news of controversial voting as Nicaragua captain Juan Barrera claimed that he did not cast a vote, however, FIFA voting slips show that he has chosen Lionel Messi as the winner. When sportsbible.com contacted FIFA, their official spokesperson said that they have checked the voting documents submitted by the Nicaraguan FA and all documents are signed and confirmed with their official stamp.