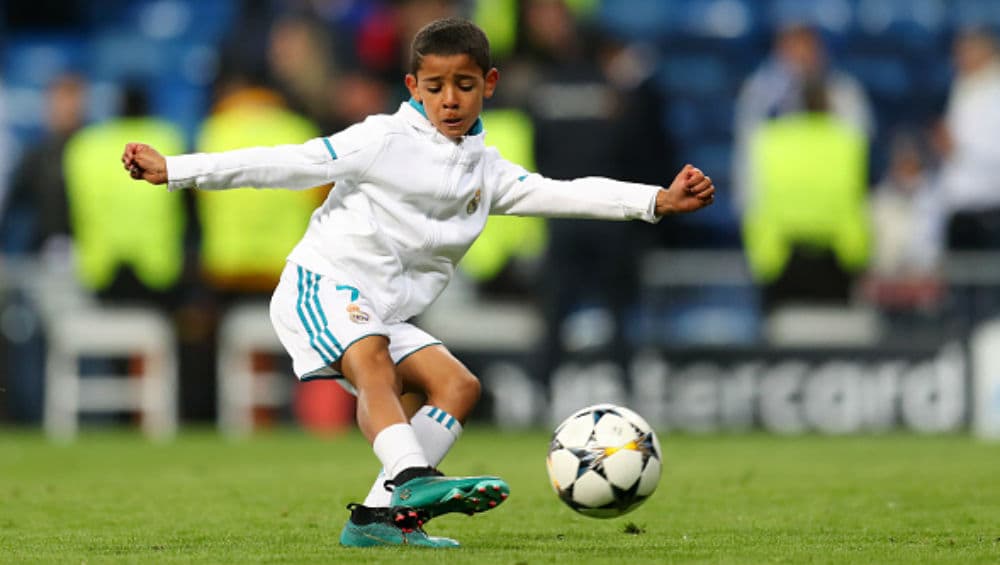 "Like the father like the son," is the adage that comes to our mind when we think about Cristiano Ronaldo Junior especially when it comes to the recent record which has just surfaced online. On many occasions, CR7 junior has awed us with his stunning free kicks and goals. Many of his videos and pictures have gone viral online. Now, the little one has added one more feather to his blistering hat.  CR7 junior who has been blazing guns at the Italian club has slammed 58 goals in 28 games for under nine at Juventus. Cristiano Ronaldo Jr Scoring a Goal at Family's Backyard Will Leave CR7 Smiling Ear to Ear (Watch Video). 
The eight-year-old moved to Turin along with his father CR7 last year in 2018 during the summers. The former Manchester United player was signed by Juventus for the reported sum of  €100 million last year in the month of July.  Ronaldo snapped his nine-year-long ties  with Real Madrid.  So far, CR7 junior has bagged 18 assists in the season. Prior to this, CR7 junior had slammed seven goals in the match prior to this. The record was shared by one of the fans on social media.
Cristiano Ronaldo Junior for Juventus U-9:

✅28 games

⚽️58 goals

🅰️18 assists

Like father, like son. pic.twitter.com/P8wINLpwXR

— FootballTalentScout (@FTalentScout) October 30, 2019
While speaking of CR7 junior, his father said, "I hope that Cris, my son, can be like his dad. He says he is going to be better (than me), but I think it's difficult. I am very happy to have scored, for him too. He is playing for Juventus and adapting really well, it has been easier for him than for me."