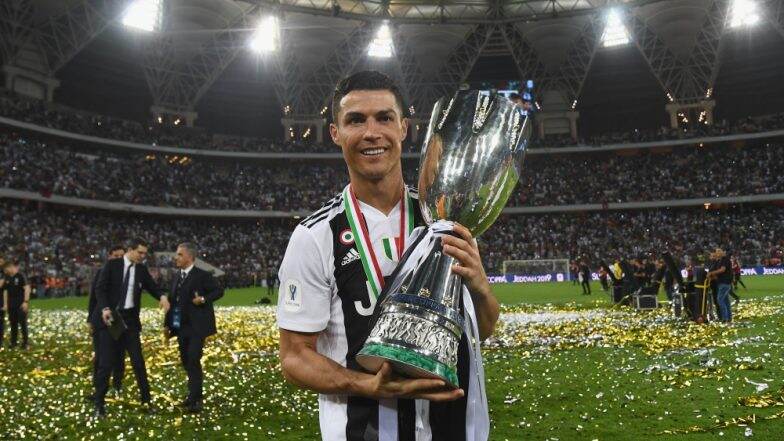 Over the years, Cristiano Ronaldo aka Cristiano Ronaldo dos Santos Aveiro has turned out to be the most one of the best players in the history of football. With a plethora of records under his belt, he has constantly been an inspiration for the upcoming prodigies. Ronaldo has won 27 trophies in his career, including five league titles, five UEFA Champions League titles and one UEFA European Championship. Cristiano Ronaldo's Penalty Helps Juventus Seal 2-1 Victory Against Lazio in Serie A 2018-19 (Watch Video).
He also holds the records for most official goals scored in Europe's top five leagues (412), the UEFA Champions League (121), the UEFA European Championship (9), as well as those for most assists in the UEFA Champions League (34) and the UEFA European Championship (6). The Juventus footballer celebrates his 34th birthday on February 5. On his birthday, we bring you 10 cool facts about the footballer. Check them out below:
Being born into a poor family, CR7's road to success was quite a tough one. His father was a gardener and his mother worked as a cook and cleaning lady.

Ronaldo first came in contact with football through his father, who worked as an equipment manager at the boys club.

He was diagnosed with a racing heart, a condition that could have forced him to give up playing football. Ronaldo underwent heart surgery where a laser was used to cauterise multiple cardiac pathways into one, altering his resting heart rate.

He was nicknamed 'cry baby' as a child.

At the age of 14, Ronaldo was expelled from school for throwing a chair on the teacher for disrespecting him. This proved to be the biggest turning point of his life as he diverted all his attention on football.

The University of British Columbia-Okanagan in Canada offers a sociology course on Cristiano Ronaldo.

The speed of Ronaldo's free kick is a whopping 130km/hour, or 31.1m/second.

Unlike his teammates, CR7 avoids getting tattoos to donate blood.

Ronaldo's jump generates five times more power than that of a wild Cheetah as it jumps in full flight.

Ronaldo does 3,000 abs per day.
Ronaldo continues to have a dream run at Juventus too as the team sits at the top of the Serie A 2018-19 table with no losses this season. Out of the 22 matches, CR7 has netted 17 goals and has made 6 assists.