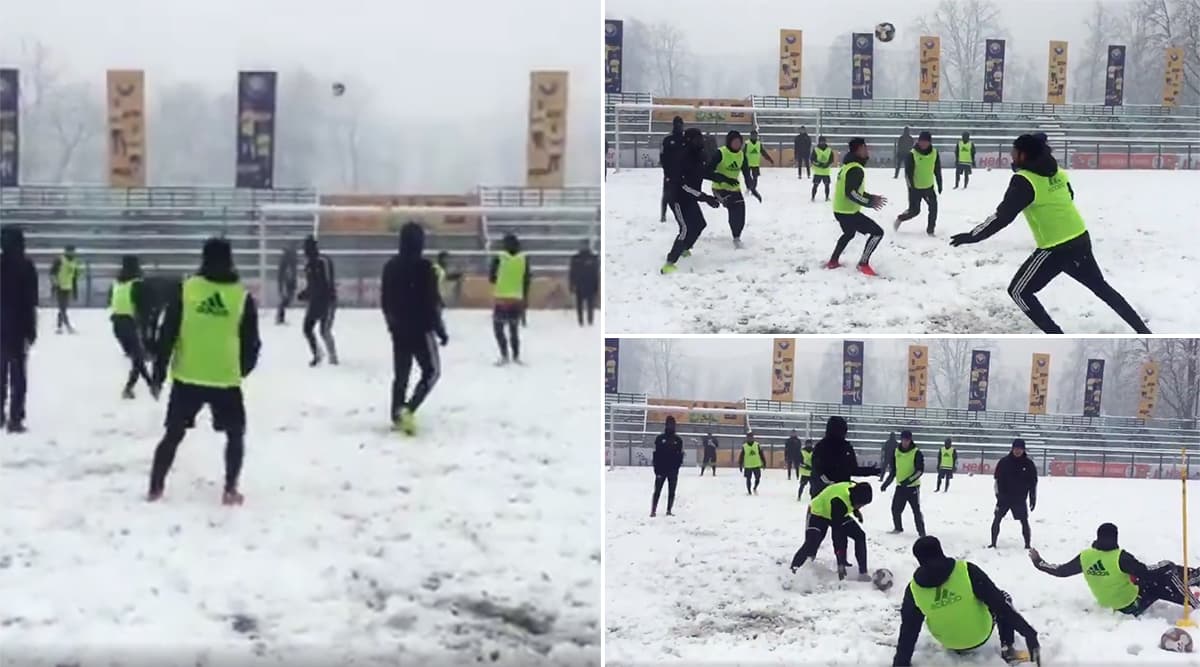 Heavy snowfall in and around Srinagar may have forced I-League authorities to postpone their successive home games against Gokulam Kerala and Churchill Brothers in the 2019-20 I-League, but Real Kashmir FC players could not be kept out of the practise ground. Real Kashmir players, on December 13 (Friday) stepped out at the snow-clad TRC Turf ground in Srinagar to practise and play football after being forced to only undertake indoor training sessions and sit at home due to inclement weather conditions and heavy snowfall. Real Kashmir FC's I-League home games on December 12 and 15 were postponed to a later date due to poor weather conditions and dense fog that resulted in the closure of the Srinagar airport disrupting flight operations. I-League 2019–20: Real Kashmir FC's Games Against Gokulam FC and Churchill Brothers Cancelled as Srinagar Airport Inoperative Due to Bad Weather.
The players, however, could not be kept out of the football ground for a lengthy period of time. Heavy snowfall and difficult weather conditions in the valley has forced the authorities to shut down the Sheikh ul-Alam International Airport in Srinagar for three consecutive days. The closure of the airport, coupled with the inclement weather conditions in Srinagar, forced the I-League to cancel two matches in the region. In a video, though players of Real Kashmir FC can be seen playing football and practising shooting drills in the snow-covered stadium. Jammu and Kashmir, Himachal Pradesh, Uttarakhand to Receive heavy Snowfall in Next 24 Hours, IMD Issues Yellow Alert.
Real Kashmir FC Players Train
Snow football : @realkashmirfc team practicing for upcoming I league match pic.twitter.com/k0ggmNWh39

— Basit Zargar (باسط) (@basiitzargar) December 13, 2019
"With the Srinagar Airport not being operational due to poor weather conditions, Real Kashmir Football Club's first two home matches against Gokulam Kerala FC on December 12, 2019, and Churchill Brothers FC Goa on December 15, 2019, stands postponed," the All India Football Association (AIFF) had said in a press release.
"No flight operations took place on Monday morning because of poor visibility. Primary schools were also closed due to adverse weather conditions as heavy fog engulfed most parts of the valley. New dates for the matches will be announced soon," the football body added.
Real Kashmir, who finished third in the I-League in their debut campaign last season, have played one game in the 2019-20 I-League this season and are ranked 9th in the points table. They held East Bengal to 1-1 draw in their first and only game of the season so far. With their next two home matches postponed, Real Kashmir will next be seen in action on December 22 (Sunday) against TRAU in Imphal, Manipur.