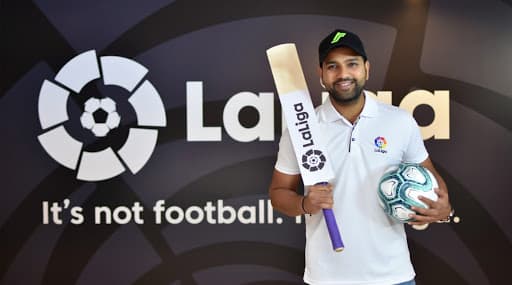 India's explosive opening batsmen and limited over's vice-captain, Rohit Sharma has been announced as the brand ambassador for La Liga in India on Thursday (December 12). The Indian cricketer posted a story in his Instagram account where he revealed that he has been chosen as the brand ambassador for the Spani's first division football league. 'So honoured to be the first ever brand ambassador of La Liga' the 32-year-old captioned his story. Rohit Sharma is an avid football lover and is a big fan of Spanish giants and record Champions League winners Real Madrid. Joaquin, 38, Becomes Oldest Hat-Trick Scorer in La Liga History, Achieves Feat During Real Betis vs Athletic Bilbao Clash.
Rohit Sharma also revealed the news on his Facebook account when he posted a photo of him holding a jersey with the number '45' written on the back of it. On Wednesday, The right-hander became the first Indian to hit 400 sixes in International cricket. He achieved this feat in his 354th match across all formats during the third T2OI clash between India and West Indies in Mumbai. Rohit isn't the first Indian brand ambassador for La Liga as Bollywood actor Arjun Kapoor was also named as the Spanish football first division's ambassador in August 2018. Cristiano Ronaldo and Lionel Messi Not Neymar 'Top' Most-Searched Athletes in Google's Year in Search 2019! Here's How.
Ambassador for La Liga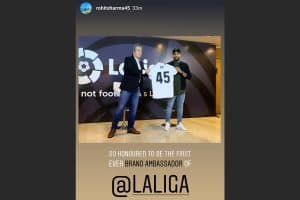 Rohit Sharma's Post
La Liga is one of the most entertaining football leagues in the world and has an average attendance of 28, 167 for league matches this season. Spain's premier footballing competition is home to one of the biggest matches in world football, the 'El Clasico' which is played between FC Barcelona and Real Madrid. La Liga is arguably the most dominating league in the world as teams from Spain have won 7 out of the last 10 Champions League Trophies as well as the last ten 'Best Player in the World' award have also been won by players from La Liga.