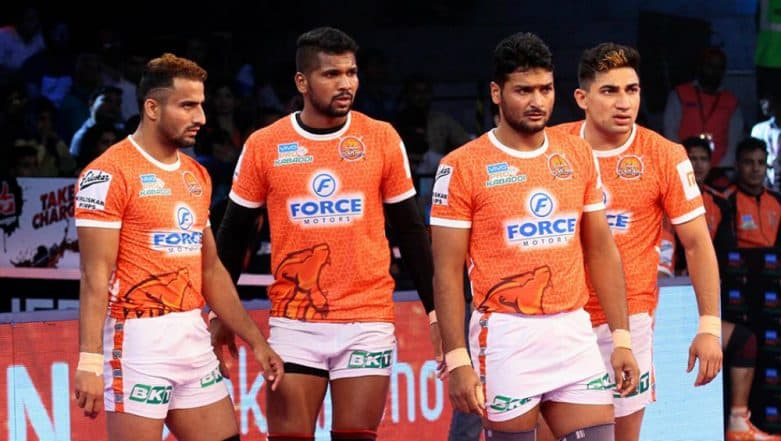 Pune, October 20: Puneri Paltans defeated Jaipur Pink Panthers 29-25 to register their first win in home-leg of the Pro Kabaddi League on Friday. Pune's defence led by Ravi Kumar, who picked six crucial points in tackles, was the major difference between the two sides in front of a packed home crowd.
Pune rode on 18 tackle points to ensure they remain on top of the table in Zone A. It was Jaipur's second defeat of the season as they remain at the bottom of Zone A points table. PUN 29 - JAI 25 | Puneri Paltan vs Jaipur Pink Panthers Live Pro Kabaddi Score Match 24 - Summary.
Jaipur started with a 3-1 lead in the first three minutes as their defence started off swiftly. Akshay Jadhav made a two-point raid in the sixth minute as Puneri Paltan tied the match at 4-4. Both teams traded tackle and raid points in the next couple of minutes as it was 6-5 in Jaipur's favour after nine minutes.
Jaipur led 10-5 after 14 minutes and it was then that Pune started their flurry of super tackles. It was an evenly contested first-half where defenders played a bigger role than raiders. Puneri Paltan forced three super tackles in the first-half.
It was surprising for the gallery that in the first-half, Nitin Tomar couldn't score a single raid. At the end of the first-half, it was 13-12 in the favour of Pune. Pune forced another super tackle in the 22nd minute to lead 15-13. The fifth super tackle for Puneri Paltan came in the 25th minute as they led 17-15.
Nitin Tomar's first point came in the form of a tackle, with Puneri Paltan leading 20-15 after 32 minutes. Two minutes later, Jaipur trailed 18-21 as they sent Tomar to the bench again.
Pune equalled the record of most super tackles in a match in the 35th minute to lead 23-18. Deepak Hooda scored two crucial raid points as Jaipur Pink Panthers inflicted the first all-out of the match in 38th minute as they cut the lead to just one point.
The host had their defence to thank for as they managed to pick important tackle points throughout the match. After losing their first home game on Thursday, Pune finally carved out a win, thanks to their superb defenders.