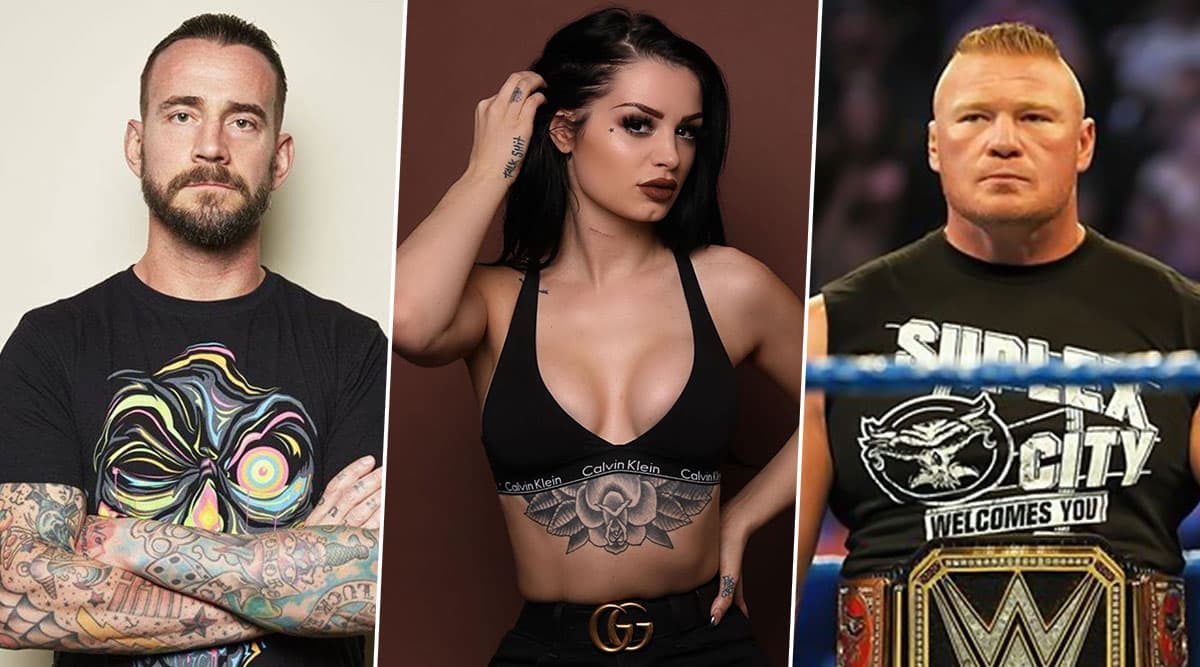 Ever since Paige has announced her in-ring retirement after WrestleMania 34, fans have been requesting her to make a return for a fight. WWE diva Paige recently teased about her return at Royal Rumble in her latest tweet. The two times WWE Diva Champion Paige has mentioned in her tweet that she will enter Royal Rumble match at number 2 and eliminate Brock Lesnar. Twitterati reacted on CM Punk's response to Paige tweet. CM Punk Should Enter at Number 30 in WWE Royal Rumble Match 2020, Says Bully Ray After Brock Lesnar Confirms Himself as First Entrant (Watch Video)
There have been rumours of CM Punk return to WWE in-ring action, as most people have speculated about him appearing in Royal Rumble match. After CM Punk's reaction on Paige's tweet, fans feel both CM Punk and Paige might make a return to WWE. CM Punk has replied to Paige's comment in the form of a GIF where there are two Spider-man looking at each other.  Some fans have also added the angle of Edge making a return at Royal Rumble. Now without wasting any further time, let us see tweets below. WWE Raw January 6, 2020 Results and Highlights: Big Show Surprises Fans With His Return; Brock Lesnar to Be the First Entrant in Men's Royal Rumble Match.
Paige's Teasing Tweet on Her Return at Royal Rumble 
I am coming back to the #royalrumble you guys. I'm entering myself into the men's and being number 2 and taking that bish to suplex city then go on to win the whole thing.. 😂 pic.twitter.com/fGIswON9Tf

— PAIGE (@RealPaigeWWE) January 12, 2020
CM Punk's Unique Reply to Paige 
— player/coach (@CMPunk) January 12, 2020
Some Fans Doesn't Want False Hope 
— Dominik (@_domi190404) January 12, 2020
Some Fans Confirming Paige & CM Punk Return to WWE
Paige and CM Punk IN-RING returns confimed!

— TGFish7 (@TGFish7) January 12, 2020
Fan Adding Edge in the Conversation 
@EdgeRatedR has entered the chat 👀🤣... #RoyalRumble #WWENetwork pic.twitter.com/fnPMIQSGfS

— Raphael Wilson (@Raph089968_) January 12, 2020
Some Consider This as a Joke 
— T. Kenny (@TN_Kenny) January 12, 2020
Fan Requesting Edge to Make a Comment 
@EdgeRatedR any comment

— O͓̽n͓̽l͓̽i͓̽n͓̽e͓̽ ͓̽C͓̽o͓̽m͓̽m͓̽e͓̽n͓̽t͓̽o͓̽r͓̽ (@OCommentor) January 12, 2020
Meanwhile, WWE COO, Triple H in an interview with Inside the Ropes, said that WWE is ready to welcome Edge and Paige, however, health comes first for these wrestlers. Both Edge and Paige left the company on their own terms as they were not medically advised to continue. The Game further added that medical clearance is given more attention when wrestler plans to return back to WWE. WWE Royal Rumble is scheduled to take place on January 26, 2020, till then we can just wait and see what exactly happens. However, the WWE Universe will love to see Paige, CM Punk and Edge back in action.