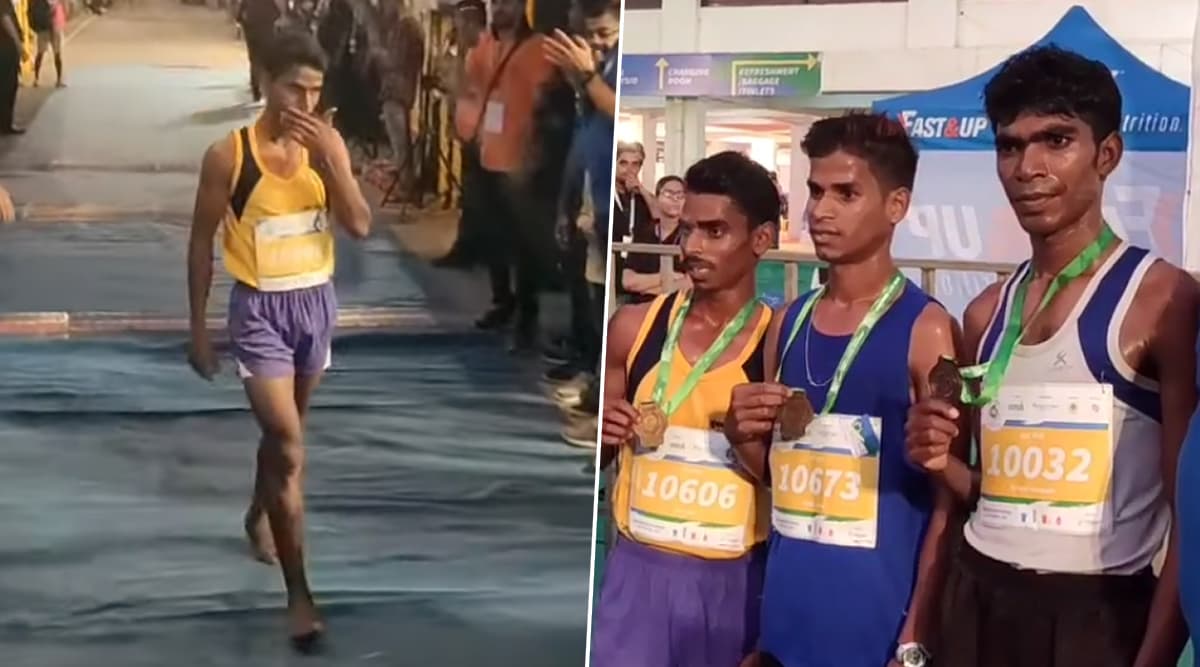 Dreams of an athlete hinges a lot on their or their family's financial capability. Often lack of financial power of an aspiring athlete kills his/her dreams and ambitions of becoming a sportsperson and winning medals for the country. But some that overcome difficulties, battle challenges and fights limitations to achieve his/her dreams become heroes. Meet Amit Mali from Nizamgar, who fought so many challenges to stand second in the 2019 Vasai Virar Mayor's Marathon event. Amit, who couldn't afford shoes, ran 11km barefoot at the Vasai Virar Mayor's Marathon and came second in the 11km open race event of the marathon transcending barriers and fighting his financial limitations to win the silver medal in the 11km open race event. World Anti-Doping Agency (WADA) Ban Russia From Summer Olympics 2020, Winter Olympics 2022 and Other International Sporting Events Over Four Years For Doping.
Wearing the 10606 number plate/bib on his front and back, Amit ran without a shoe for 11kms and still beat every other racer - barring one - showing dreams, passion always triumphs obstacles and challenges in an athlete's life. Amit, after clinching the silver medal at the 11km open race event, said: "I enjoy running and enjoyed it here too. The climate was good and it helped." Running without a shoe is, however, extremely challenging let alone running 11kms barefoot and Amit accepts that but he cannot afford it.
Athlete Runs 11km Race Barefoot in Vasai Vihar Marathon
"I don't have shoes and therefore my legs strained and it became very difficult to complete the marathon," said Amit, who finished second in the same event last year and repeated the feat this year. "Had I wore a shoe, I would have definitely run better and could probably win it (11km open race event)" he added.
Asked whether anyone stopped him or questioned on him on running without a shoe, Amit revealed that had a shoe for practising but couldn't afford one for running. "I have a shot but it is training shoe and can't be used for running on tracks," revealed the silver medallist at the 11km open race in 2019 Vasai Virar Mayor's Marathon event.
Meanwhile, Mohit Rathore won the full marathon and Anish Thapa set a course record by clinching the top honour in the men's half-marathon event. Thapa clocked 1 hour, 4 minutes and 37 seconds (1:04:37 seconds) to win the half-marathon event and set a new track record. He bettered G Lakshmana's 1:04.56 seconds record set in 2014.