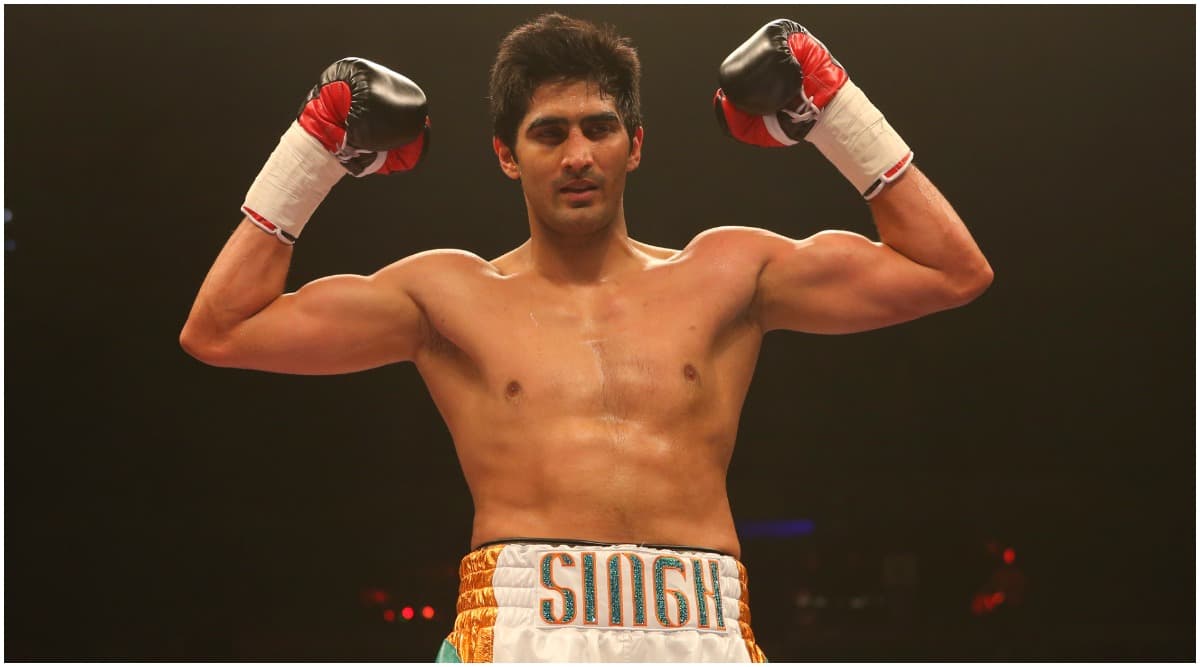 Vijender Singh continued his unbeaten streak in professional boxing circuit extending his winning streak to 12 successive matches. The WBO Asia Pacific and Oriental Super middleweight champion beat Ghanaian Charles Adamu – also known as "The Crusader" – by a unanimous decision (80-68) to continue his streak. The bout at the Caesars Palace Dubai in the United Arab Emirates was a lop-sided bout with Vijender completely dominating his Ghanaian opponent, who spent most of the eight rounds evading Vijender's aggressive punches.  All three judges of the bout scored in favour of Vijender with the former Indian Olympic medallist earning 80-68 points to win the bout by a comprehensive margin.
Vijender was utterly dominant in the bout giving very little space to his 42-year-old opponent to attack. Vijender, who won a bronze at the 2012 London Olympics, successfully hit Adamu's face and rib-cage throughout the bout. The highlight, however, was the first minute of the second round when Vijender sent Adamu on the floor with a heavy blow on the face. Such was Vijender's dominance on the bout that he found Adamu's face and rib-cage almost every time he threw a punch at the Ghanaian.
Vijender Singh Maintains Unbeaten Streak
एक ब और लठ गाड़ दिया भाई न

बहुत बहुत बधाई हो भाई @boxervijender ... 🥊🥊🇮🇳🇮🇳#boxing#RotundaRumble2 #KingOfRing #VijenderSingh@Dchautala @nitinsehra10 @Virendersindhu @ITCELLJJP @Vjdhankar1 @Nbeniwal2 @hemantpalrana @sangwansahab12 pic.twitter.com/RBRE6eVEgA

— राकेश नटवाड़ियाकिरढ़ाण (@rkk4496) November 22, 2019
Vijender Singh Makes it 12-0
#VijenderSingh beats Charles Adamu by unanimous decision. His pro record now stands at 12-0. #RotundaRumble2 pic.twitter.com/uQC7OqKtm3

— Ujwal Kr Singh (@UjwalKS) November 22, 2019
Adamu, until his bout against Vijender, had won 33 of his 47 professional boxing bouts but came into the bout having won just one of his last five bouts. The clash between Vijender Singh and Charles Adamu was the main event at the 'Rotunda Rumble 2' fight in UAE. Vijender, who last played Mike Snider of the United States in July earlier this year and beat the USA boxer in eight rounds, clinched his third bout via a decision. Eight of his 11 bouts have been won through knockouts.
Vijender had in March this year taken the political plunge by joining the Indian National Congress. In the general elections held in the following month, the star boxer was fielded as the party candidate from Delhi South parliamentary seat. Vijender's electoral debut, however, turned unsuccessful he faced a crushing defeat against BJP candidate and incumbent lawmaker Ramesh Bidhuri.