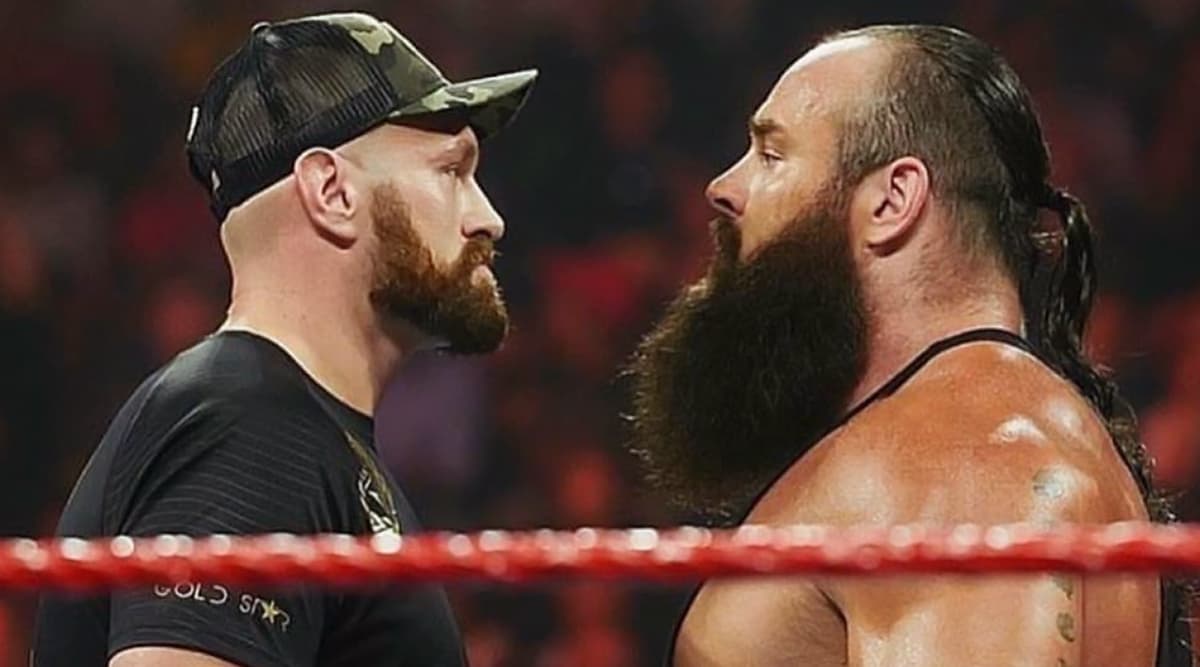 Tyson Fury defeated Braun Strowman by count out at WWE Crown Jewel 2019 which is taking place at King Fahd International Stadium in Riyadh. This was the most anticipated match of the event as Tyson Fury who is a British professional boxer fought his debut match against Monster Among Men. The Gypsy King which is sobriquet of Tyson Fury delivered a knock-out punch to send Braun Strowman outside the ring. WWE Crown Jewel 2019: Brock Lesnar Beat Cain Velasquez to Retain Title, Rey Mysterio Rescues MMA Star From Beast Incarnate's Assault.
Tyson Fury entered the ring in a very fancy manner where he was dressed in traditional Arabic attire which indeed must have helped him to gain local crowd support. Braun Strowman dominated Tyson Fury in major part of the match. The Gypsy King was hit by various slam, however Tyson Fury emerged out victorious in typical boxing manner, as he won the match by KO.  Braun Strowman wasn't able to make to the ring till the count of ten, which resulted in Tyson Fury victory. In frustration, Braun Strowman came back in the ring and delivered a slam to Tyson Fury.
Tyson Fury Entrance at Crown Jewel 2019
Do your thing, #GypsyKing.@Tyson_Fury #WWECrownJewel pic.twitter.com/7h3McmFlgy

— WWE (@WWE) October 31, 2019
Tyson Fury Won the Match By Count Out
A WIN'S A WIN.@Tyson_Fury just did his thing and earned a count-out VICTORY over @BraunStrowman at #WWECrownJewel! #TysonVsBraun pic.twitter.com/m170Vs0N9W

— WWE (@WWE) October 31, 2019
Braun Strwoman Frustrated With His Loss
You had to know @BraunStrowman wasn't going to take that loss well... #WWECrownJewel #TysonVsBraun pic.twitter.com/rkvUbL18oF

— WWE Universe (@WWEUniverse) October 31, 2019
Earlier in the show we saw Brock Lesnar defeat Cain Velasquez by making him tap-out on a submission move. The OC won Tag Team World Cup match. Now we are left with Seth Rollins vs The Fiend Bray Wyatt match for Universal Championship. Stay tuned to LatestLY for more updates and news on WWE Crown Jewel 2019.