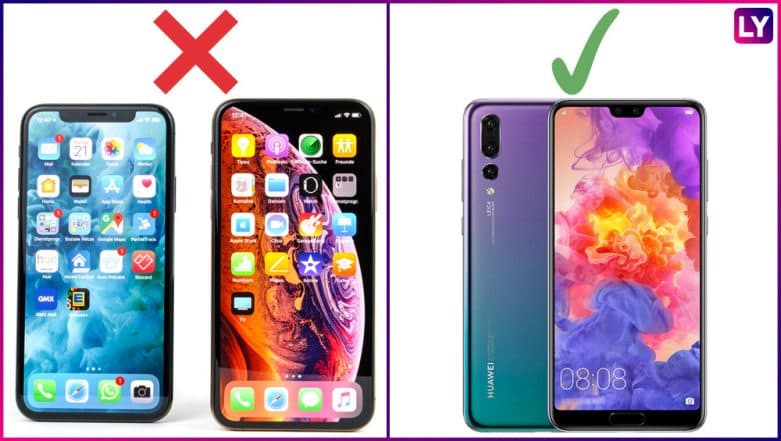 Post arrest of Huawei's CFO Meng Wanzhou in Canada, the Chinese companies has asked its employees to boycott Apple iPhones for showing their support for the company. The Chinese firms have urged its staff to stop using Apple devices, and apparently threatening to punish them who failed to comply. This issue between US and China is longer ongoing a trade tussle or laws, it has now become a matter of national pride. As per the market reports, various Chinese firms from Information Technology and food companies have come forward in showing support for Huawei. Best Five Smartphones Launched During 2018 in India; Apple iPhone XS Max, Google Pixel 3, OnePlus 6T, Samsung Galaxy Note 9 & Huawei Mate 20 Pro.
The reports also claim that there are subsidiaries being offered on Huawei products, wherein various firms are offering 10 to 20 percent of subsidiary to its employees on the overall cost of the Huawei device. Some companies are also willing to cover the entire amount of the purchase. According to the report from The Nikkei Asian Review, electronics maker - Shanghai Youluoke Electronic and Technology are offering subsidiaries up to two Huawei phones for every employee. Moreover, Shenzhen Yidaheng Technology will be reimbursing up to 18 percent of the cost for the Huawei or ZTE devices.
Similarly, a brewer in Henan province of China has officially announced that the company will be offering free alcohol worth the 30 percent to employees as well as customers on the purchase of the a Huawei device.
As the fact that Huawei is a private company, it is believed to be closely associated with the Chinese government. Moreover, the Communist party has also encouraged the support for the tech company.
Earlier this month, Meng Wanzhou was arrested in Canada over the request of the United States for violating the US sanctions. Huawei's CFO has been released on bail, however, she will be facing extradition to US over the charges.
The boycott is not just limited to iPhones, the Mengpai Technology company has also asked the employee to shun other American products as well including American cars, according to the report from The Washington Post. As a reminder, Chinese court recently banned the retailing of various iPhone models over Apple's ongoing dispute with Qualcomm.