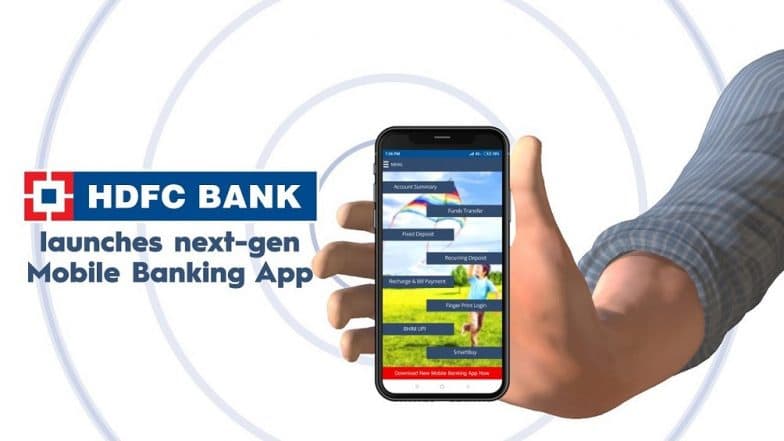 It was late last month when HDFC Bank officially rolled out an improved version of its mobile banking for its customers. The mobile app was released on Google Play and Apple App store for both Android as well as iPhone platforms. The company claimed that this new mobile banking app features hi-tech security features such as advanced Face ID for Apple iPhone X, iPhone XS and XS Max. The app also features option to invest, save, pay bills and more, claimed the company. HDFC to Raise Rs 8,500 Crore Via Bonds.
However, the customers who installed the updated version of HDFC's mobile banking app were left furious as the app became unresponsive continuously. The customers started facing numerous issues with basic activities of a mobile banking app. Various HDFC mobile app customers took to social media platforms seeking the bank to fix these issues.
Replying to the customers via Twitter, the bank acknowledged the problems that the customers are facing with the updated HDFC Bank mobile banking application. Moreover, the bank also removed the application from Google Play and Apple App Store. Meanwhile, the customers have to HDFC Bank's standalone PayZapp until the issues are rectified. The customers can use PayZapp for mobile recharging, pay bills and shop. The users looking to access net banking, they will have to use the website of the HDFC bank separately on PC or mobile.
— HDFC Bank (@HDFCBank_Cares) November 29, 2018
HDFC Bank in a statement that, "Sorry! We let you down. We are extremely distressed by the inconvenience several of you have been facing while logging in to our new MobileBanking app. While we're working to resolve it on priority, those customers still using the earlier version can continue to do so, whereas those who have moved to the new version and deleted the one will not be able to use Mobile Banking till further notice. We request them to use NetBanking, PayZapp, PhoneBanking and Missed-Call Banking, for accessing regular banking services. It is taking us longer than anticipated, but we are confident we'll be able to fix the issue at the earliest and you'll be able to use the new app. Our sincerest apologies once again!"