Pornhub year reviews don't just exhibit the porn preferences of the year, but a lot more than that. One of the most interesting things about the detailed statistic is that it allows you to compare, country wise choices of porn as well. And Indians, as usual, do exceedingly well at it. Amongst the top 20 Countries by Traffic, India stands second after US and UK. The Pornhub review for the year 2018 is here and has some exciting things to check out. The XXX site Pornhub always has some surprising revelations such as this year, apparently, Fortnite Comes Second After Stormy Daniels in Top New Searches of 2018 at Pornhub.com.
The statistics say that India's interest in "homegrown porn" continues to be one of the most searched things containing words such as 'Indian' or 'Hindi.' As desi as it can get, India's top searches include desi versions of porn. However, this year, 'School' was on everyone's mind and the 'Indian college girls' moved into second place.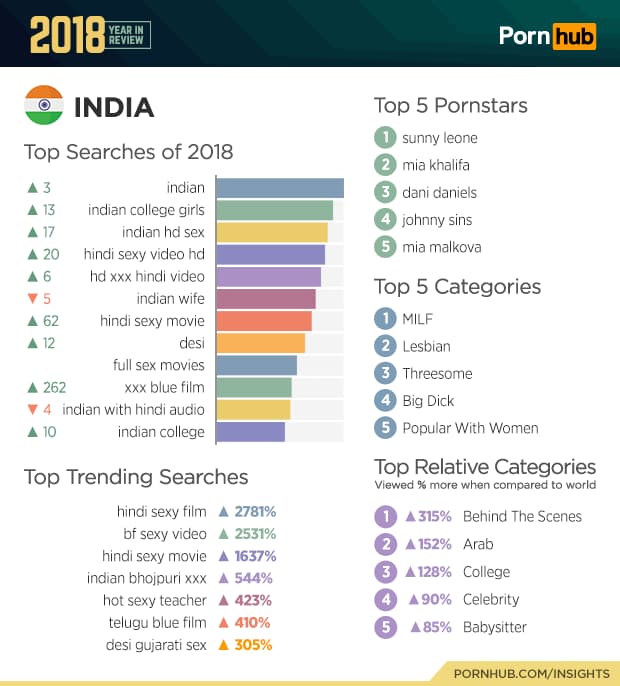 The searches, however, seem to revolve around school and education institution because this year the searches for "hot sexy teacher" grew by 423%. Amongst the porn stars, Sunny Leone and Mia Khalifa remained the most searched for pornstars in India for the second year. The report also suggests: "Compared to the worldwide average, visitors from India are 315% more likely to view 'Behind the Scenes' videos, 152% more for 'Arab' and 128% more for 'College'."
The synopsis of PornHub review is that in each minute, 2018, worldwide is: Pornhub receives 63,992 new visitors to the site. 207,405 videos are watched every minute via 57,750 searches. Every minute also sees 12 new videos and two hours of content uploaded. Also, about 7708 Gigabytes of data is transferred worldwide in a minute.