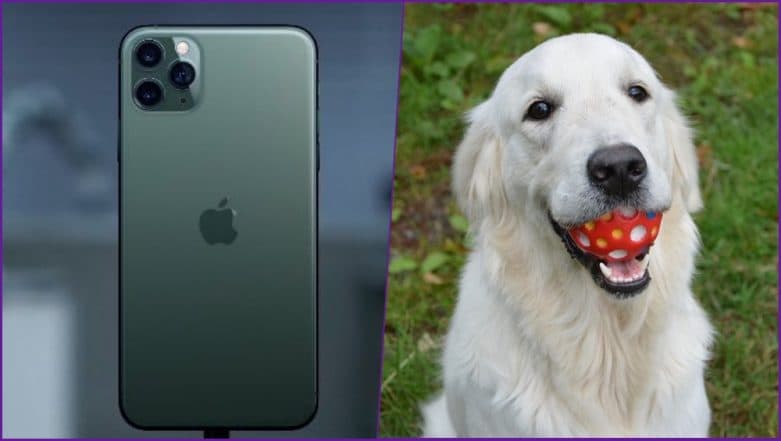 Apple introduced a new series of iPhone 11 phones and social media is buzzing since the announcement. The new features and the high-end camera are among the top discussed points of this phone. And while some of the features of the iPhone 11 series have inspired funny memes and jokes, there is a special feature for pet owners. The iPhone 11 camera is said to have a pet portrait feature. So if you have struggling to take pictures of your pets, then buying an iPhone 11 may ease it a bit.
If you are a pet owner then you'd be loving clicking their pictures. Most pets do have a photogenic appeal but it also requires a lot of patience to click their pictures. Maybe the newest feature on iPhone could help. While we already have a lot of pictures of cute animals sprouting on the timelines every day, those who buy iPhone 11 will only flaunt the feature more. Apple iPhone 11 Series: India Launch, Expected Price, Pre-Orders, Features & Specifications.
Check Some Reactions on Pet Portrait Feature on iPhone 11:
Apple Making it Official!
V IMPORTANT: PET PORTRAIT MODE NOW OFFICIALLY A THING

— nic nguyen (@itsnicolenguyen) September 10, 2019
And We Need The Upgrade
Me: I will not be upgrading this year... Apple: Pet portrait mode. Me: pic.twitter.com/uQYEeSFRlb

— elgato85 (@GuerraAbner) September 10, 2019
More Cat and Dogs Accounts
Attention, #CatsOnTwitter and #DogsofTwittter: the iPhone's Portrait Mode now works on pets, too. #AppleEvent

— Shelly Palmer (@shellypalmer) September 10, 2019
Good Enough to Make the Switch?
LOL - Portrait mode now works on pets…some people will buy it just for this #AppleEvent

— Brian Katz (@bmkatz) September 10, 2019
So looks like some of the people are very geared up about the pet portrait mode and willing to make that switch too. Well, if someone is professionally into pet or animal photography, then iPhone 11 seems like a good investment too. So should we brace ourselves for more pet portrait and pet photoshoots?