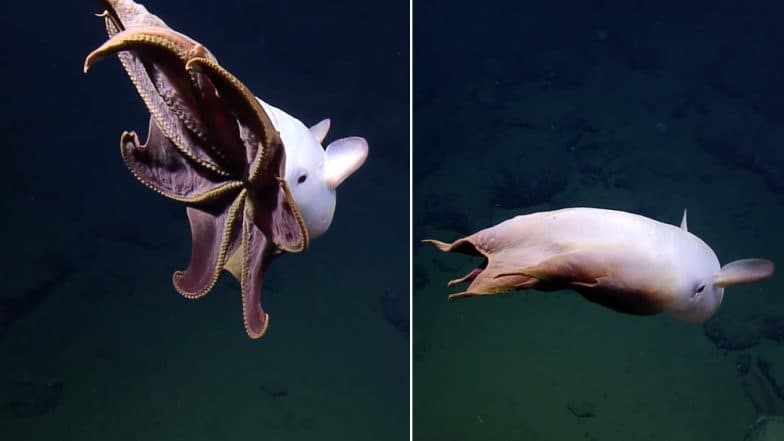 The deep ocean underwaters have some stunning creatures which are not even known to many of us yet. It is no less than a treasure of underwater creatures in the deeper water surfaces. Researchers from Monterey Bay National Marine Sanctuary have captured a rare octopus referred to as dumbo because of his appearance similar to Disney's elephant character by the same name. But the researchers had a ghostly sight on camera as the cephalopod gliding past in the ocean waters in Central California. Headless Chicken Monster Filmed in Antartica Ocean for the First Time, Watch Video of the Weird-Looking Sea Cucumber. 
The species of Grimpoteuthis octopus was captured on camera by Exploration Vessel Nautilus. The scientists aboard this vessel are studying the deepwater ecosystem around Davidson Seamount, which is an underwater coral forest. While the team was exploring the diverse marine life, they were treated to a glimpse of the dumbo octopus. The chief scientist aboard Chad King said, "It's not a rare species, but it's rare to come across one. The chances are low because we're in the deep ocean in one little spot."
Watch Video Footage Capturing the Rare Ghostly Dumbo Octopus
The Monterey Bay National Marine Sanctuary is a protected sight and the researchers too felt the need to protect this rare species of cephalopod. The sight may be called ghostly but the researchers were wowed by the octopus. Their enthusiastic voices can be heard saying, "Oh, so cute!" and "The world loves a dumbo!" Seal Slaps Kayaker With an Octopus on His Face, Video Goes Viral! 
Called the dumbo octopuses they live in the depths of 4000m in the oceans. They are among the deepest living sea creatures and octopuses. Their fins are what makes them exquisite and also gives them the name Dumbo. They sure do have a captivating appearance?