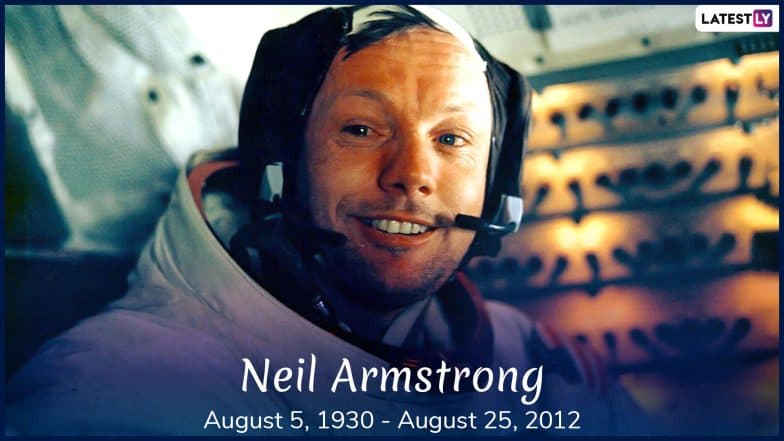 NASA astronaut Neil Armstrong became the first human to walk on the moon on July 20, 1969. Almost 2,40,000 miles from Earth he spoke to a billion back home saying, "That's one small step for man, one giant leap for mankind." Born on August 5, 1930, near Wapakoneta in Ohio, Neil Armstrong had a fascination with flight at an early age. He died on August 25, 2012, Cincinnati, Ohio in the United States. However, there are various controversies surrounding his Moon landing and death. Neil Armstrong Death Anniversary: Lesser-Known Interesting Facts About The First Person to Walk on Moon.
Armstrong earned his students' pilot's license at the age of 16. He studied aeronautical engineering at Purdue University on a US Navy scholarship. Armstrong was also a naval aviator, test pilot, and a university professor. He retired from NASA in 1971 and remained active in the aerospace community and stayed away from the public eye. Commemorating Armstrong's birthday, earlier this month NASA tweeted saying, "Neil Armstrong is remembered for many feats, including breaking records in aviation and spaceflight. On his birthday, we remember the man who inspired millions when he walked on the surface of the moon." Moon Landing 50th Anniversary: 13 Spectacular Facts About NASA's First Moon Mission and Apollo 11.
As Neil Armstrong's death anniversary approaches, we have compiled a list of most Frequently Asked Questions (FAQs) and answers concerning his death:
1. When did Neil Armstrong die?
Neil Armstrong died August 25, 2012, Cincinnati, Ohio in the United States.
2. How did Neil Armstrong die?
Armstrong underwent bypass surgery to relieve from coronary disease. Although he appeared to be recovering well, he later died in the hospital due to complications. Did Neil Armstrong Die of Medical Negligence? Secret Documents Unearth Family's $6 Million Settlement With Ohio Hospital for Astronaut's Wrongful Death.
3. What hospital did Neil Armstrong die?
He died at Mercy Health-Fairfield hospital in Ohio. The hospital had to pay the sons of Armstrong USD 6 million in confidential agreement to settle allegations levied them about post-surgical complications resulting in his death.
4. What age did Neil Armstrong die?
Neil Armstrong died at the age of 82 due to complications following heart surgery.
5. Is Buzz Aldrin still alive?
Astronauts Buzz Aldrin and Neil Armstrong were a team during the historic Apollo 11 lunar mission in 1969. On July 20 that year, they became the first humans to walk on the Moon.
Armstrong served with NASA as deputy associate administrator for aeronautics until 1971. He joined the faculty of the University of Cincinnati as a professor of aerospace engineering. He also served as the chairman of Computing Technologies for Aviation, Inc., from 1982 to 1992. He has also served as a test pilot and an engineer. He tested many high-speed aircraft, including the X-15, which could reach a top speed of 4,000 miles per hour. The man continues to inspire generations and makes people passionate about the world above once said, "Mystery creates wonder and wonder is the basis of man's desire to understand."